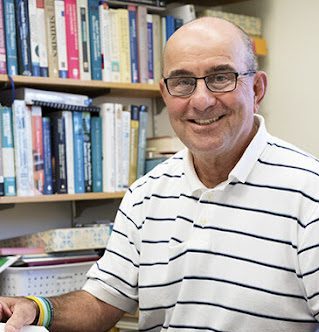 Dr. Andrew Welki, JCU's esteemed statistics and economics professor, is John Carroll's very own Where's Waldo. But, exactly how does Welki manage to appear when you least expect it?
From his history as a John Carroll undergraduate student in 1982 to his present title as Associate Professor of Economics, Welki knows the ins and outs of campus life. He attends dozens of campus events throughout the school year to stay connected with JCU and to demonstrate his school spirit.
Students cannot help but notice Welki's steadfast dedication towards campus involvement. He befriends JCU students, regardless if they take his classes or not. Partnering with The Carroll News, Welki has agreed to share his top four favorite events from each month. For this first edition of Welki's Whereabouts, September is the month in review.
Sept. 2: First Home Football Game against Wisconsin Whitewater
As a sports enthusiast, Welki looks forward to spectating the Blue Streaks at their athletic competitions. On Sept. 2, Welki rooted for the Blue Streaks at the first home football game against the Wisconsin White Waters. He said, "it was a great day, new coach, lots of enthusiasm and a well-played game."
The score and highlights from the game can be found at jcusports.com.
Sept. 6: Tower Time for Unity
If you've been to Tower Time on Wednesdays at 2 p.m., chances are that you've run into Welki. On Sept. 6, Tower Time celebrated diversity and unity, bringing in a savory palate of cultural food stations and ethnic live music. President Alan Miciak released an email statement highlighting JCU's efforts: "We all bring different gifts, talents, perspectives and food to JCU and this Tower Time is a space for us to recognize, cherish and enjoy the diversity in our community."
The food offered at this event included Filipino beef lumpia, esquite and birria tacos, hummus and pita, tiropita and spanakopita, vegetable pan fried noodles, potato sambusas, baklava, assorted macarons and cannolis.
Welki was amazed at the finished product and noted that it was a "great opener for the school year."
Sept. 7: Mass of the Holy Spirit
On Sept. 7, the JCU class schedule was revised to allow all students and faculty the opportunity to attend the annual Mass of the Holy Spirit. Welki is among one of the faculty members who attends each year.
He admires the mass' theme of culture, explaining that the mass intentions are spoken in several languages heard from members of the JCU community. Welki said, "in a lot of religious spaces, people tend to focus on what makes them different instead of the same."
Dr. Mariah Webinger, associate professor of accountancy, attended the Mass of the Holy Spirit also. She attends every year and recalled seeing Welki in the congregation. "Andy's motivation is always student-centered. He's going to go where the students are," Webinger told The Carroll News.
Sept. 22: John Quiñones Speaker Event
On Sept. 22, Welki attended the John Quiñones speaker event hosted by the Center for Student Diversity and Inclusion. Welki picked this event because he felt inspired by Quinoñes' story and mission. "He is the American Dream. He brings hope despite all the mistreatment… he pushed on."
Prior to the event, Welki was unaware of John Quiñones. "You have what people would perceive to be a celebrity," Welki said. He acknowledged that this was a one-of-a-kind experience. Quioñes' story about ethics and integrity as a Hispanic journalist and TV show host was eye-opening for students and faculty alike.
For October, Welki kept a couple events on his radar. At the time of the interview, Welki was excited for the first Improv Club show, saying that it's "a must-see."
He looked forward to "see [his] former kids grow up" at the annual Meet the Recruiters event, which was hosted on Oct. 11. Welki considers them his "grand-students."
Have you seen Welki at any of these events? If you missed him, expect to run into him at other sponsored campus events. Stay tuned for the next release of Welki's Whereabouts, when another detailed list of Welki's top four favorite campus events publish later this month.