How Modern Latinx Artists Impacted the Art Industry
In honor of the final weeks of Latinx Heritage Month, it is important to pay tribute to the many important Latinx figures throughout history. Focusing on the arts, many Latinx artists have changed the industry in their own ways, through painting, music and other art forms. Over the past century, people of different cultural backgrounds in the United States have gradually become more able to have a creative platform to express themselves and incorporate their history and culture. They changed history through their creativity.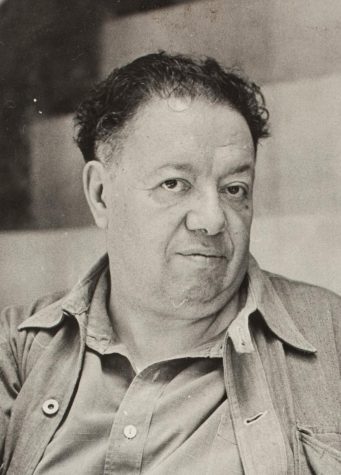 Starting off in the 1900s, Diego Rivera became one of the most iconic artists in Mexico and the United States. While studying in Europe, Rivera was inspired by famous artist Pablo Picasso and his creation of cubism. He enjoyed success in this art form in 1913, according to diegorivera.org. However, in 1920, he was inspired by the Mexican and Russian revolutions to portray his strong communist views through his art by displaying the working class and his Mexican heritage. He later became a muralist, alongside other Latino artists. He was even the direct inspiration for U.S. President Franklin Delano Roosevelt's Federal Art Project, which employed artists to paint scenes of everyday life on the sides of buildings in the 1930s, according to PBS. 
In 1929, Rivera married iconic self-portrait artist Frida Kahlo, who is admired as a feminist icon and considered one of Mexico's greatest artists, according to biography.com. She portrayed, through a surreal art style, the pain she endured in her life, such as having polio at a young age, a car accident that left her permanently injured and her rough relationship with Rivera, according to The Frida Kahlo Foundation. Kahlo's paintings gave her an artistic outlet through which she normalized traditional Mexican beauty, such as her famous unibrow, released her mental traumas and inspired others to talk about mental illnesses.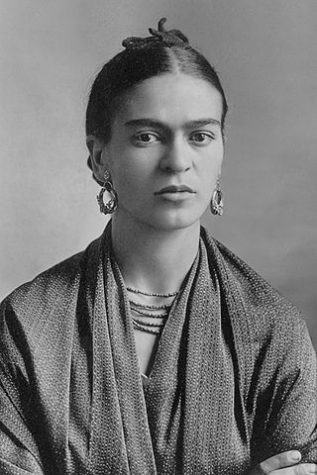 Moving on from painters, many Latinx musicians changed the industry. Cuban singer Celia Cruz, also known as "the queen of salsa," became a hit through the 1950s and 1960s. Her powerful voice and eccentric personality dominated the stage. During a time where segregation ran rapid, she embraced her African heritage and is known as the pioneer of "Afrolatinidad," or the cultural identity of Latinxs of full African decent, according to celiacruz.com. "[Cruz] is one of my favorites because I grew up listening to her music on car rides, dancing at family parties and jamming out with my family while we cooked and cleaned," said  junior Danielle Flores, vice president of  The Latin American Student Association. "She is such a strong woman who had a magnetic personality and touched so many listeners' hearts whenever she sang." 
Another iconic artist was Selena Quintanilla-Pérez, best known by her stage name, Selena. Growing up in a Mexican-American household without knowing Spanish, she  learned the language later on in her teenage years — an issue for many second- or third-generation immigrant children.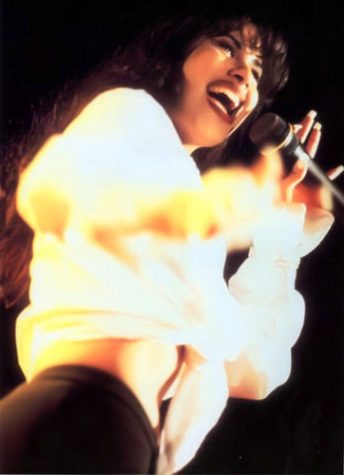 As her popularity grew, Quintanilla-Pérez wanted to relate to both of her identities, according to People Magazine. Through this, she inspired people around the world with her beautiful self-designed outfits and music. According to NBC, her emergence as a successful Latina figure provided symbolic leadership for the changing demographic. She undeniably changed the modern music industry forever by exploring her Mexican heritage throughout her music.
Bad Bunny is another important artist who is changing the music industry today. With toxic masculinity dominating the hip-hop industry, his progressive views are what make him stand out as an artist. He makes it a point not to conform to gender roles by doing nontraditional things such as painting his nails and wearing earrings. He even talks about the domination of gender roles in an Instagram post about a nail salon that refused him service because he was a man. He continues to make waves within the industry by protesting these traditionalist views. 
On  JCU's  campus, the Latin American Student Association incorporates the arts into their activities as well. "LASA always incorporates educating or enhancing our members' knowledge about Latinx artists," Flores said, "Whether it would be at our [LASA] annual United States Hispanic Leadership Institute in Chicago, where we saw Denice Frohmen, a Latinx poet, and heard her stories and poems, or at our meetings every Tuesday, having a presentation on a Latinx performer or social justice issues or just listening to music as a familia."
As Latinx Heritage Month comes to an end, it is evident that the influence of Latinx artists is strong. With the rising popularity of Spanish-speaking artists such as Ozuna, Daddy Yankee and even Cardi B, it is apparent that the inspiration of past artists paved the way for the modern industry.