JCU's season ends with no help from tournament committee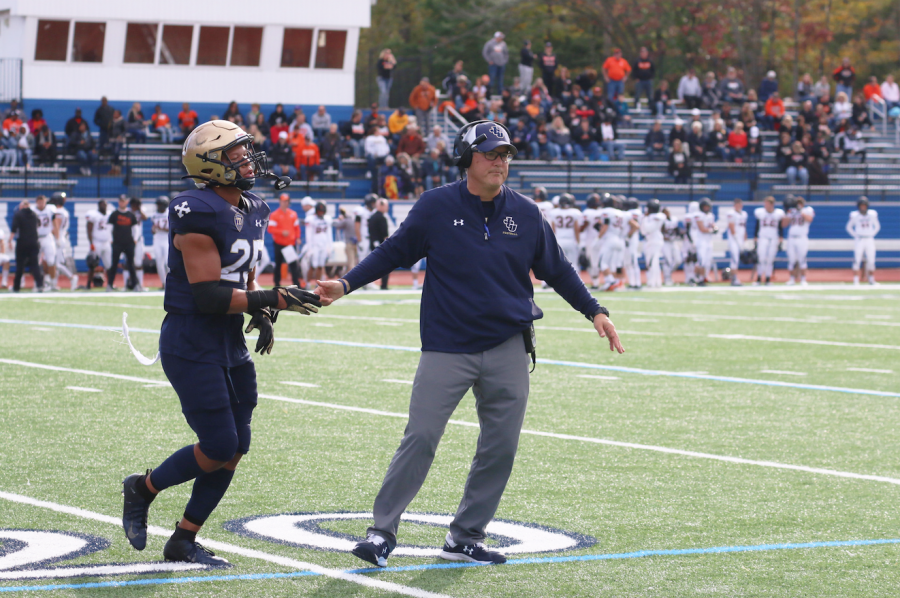 Following a 9-1 season, the John Carroll University football team was left out of the NCAA Tournament. 
The Blue Streaks defeated the Baldwin Wallace Yellow Jackets 17-10 at George Finnie Stadium off a fourth-and-eighth 'hail mary' touchdown pass by senior Jake Floriea caught by sophomore Keyshawn Colmon with 23 seconds remaining in the game.
JCU concluded their 2019 campaign on a seven-game win streak, with their only loss coming against No. 1 Mount Union.
There are 32 teams that qualify for the NCAA Tournament, including 27 teams that receive an automatic bid for winning their conference. The remaining five teams are chosen as an 'at-large' subjectively.
According to D3Football.com, this is how the committee decides who will represent the five at-large bids:
"The committee traditionally will sit down with a board that includes the top at-large team from each regional ranking, comparing the four teams head-to-head, then select one to put in the field. The committee considers the usual criteria: results vs. Division III teams, strength of schedule, results vs. regionally ranked teams, head-to-head results and results vs. common opponents."
The five at-large teams to make it into the tournament were North Central (IL), Redlands (CA), Wartburg (IA), Wesley (DE) and Whitewater (WI).
John Carroll had a more difficult strength of schedule than North Central, according to D3Football.com. Although their strength of schedule difficulty was only by a .004 point differential, JCU's ranking was 13 spots higher than North Central in those rankings.
Six Ohio Athletic Conference teams had five losses or more, with Ohio Northern and Heidelberg each finishing with 7-3 records. Baldwin Wallace losing to Ohio Northern on Nov. 9 lessened the chances of the Blue Streaks extending their season.
A game between two one-loss teams in the final week (Baldwin Wallace vs. John Carroll) would have resulted in a much stronger schedule, in essence. Instead, BW entered the game with two losses.
Under head coach Rick Finotti, the Blue Streaks have now finished 9-1 in back-to-back seasons. The Blue and Gold will only lose one starter on offense but will potentially lose eight starters on defense.