Centre ends JCU's historic season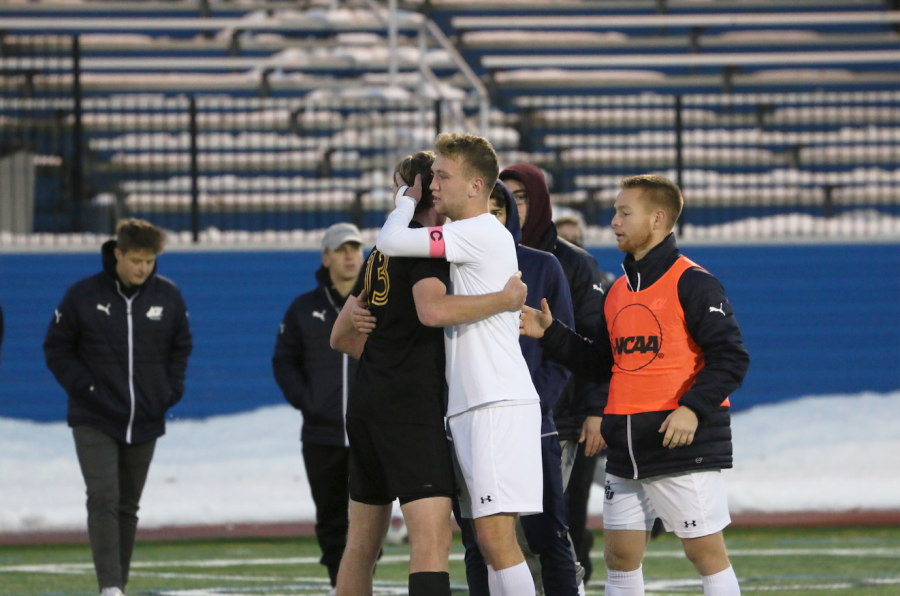 A historic season came to an end for the John Carroll University men's soccer team with a 3-1 loss to Centre College on Sunday, Nov. 17.
The Blue Streaks have now lost in the second round (of 32) in the NCAA Tournament for three consecutive seasons. 
JCU had a tremendous 2019 campaign, only losing three total games and tying two others. Their 18 wins on the year are the most in JCU history and they went undefeated in the Ohio Athletic Conference. 
"We are going to keep reaching for the sky," associate head coach Dejan Mladenovic told The Carroll News. "With the talent coming back and another good recruiting class, hopefully we can do that."
Centre's Will Newton was the kryptonite to the Blue and Gold's defense. Newton's goal in the 16th minute of play ended the Blue Streaks streak of 644 minutes of no goals allowed.
Sophomore goalkeeper Conner Robinson, with the aid of a stout defense, registered six straight shutouts. 
"We gave up a goal after pretty much one mistake," said Mladenovic. "That's what was more shocking. It wasn't the fact that it was the first goal allowed in over 600 minutes."
Newton also scored in the 21st minute, putting the Blue Streaks at a 2-0 deficit, their largest since a 3-0 loss against 13-time National Champion Messiah College on Sept. 28.  
The Blue Streaks sparked a flame seven minutes before halftime, when sophomore Larry Cersosimo cut the lead to one goal. However, the Colonels responded 12 minutes into the second half, courtesy of an Alexander Garuba goal. Garuba also assisted on Newton's second score. 
"The guys came out with a great attitude and work rate," Mladenovic said. "Obviously the [first Centre] goal was disappointing, but the main thing for me was that we never quit. We played until the last whistle. We kept fighting."
Centre was the most physical team the Blue and Gold saw all season. They committed 16 fouls, including three yellow cards. However, it was their offense that defeated JCU.
"Centre was a  great team. They had a very, very good offensive unit. I was impressed with the waves of pressure they threw at us," said Mladenovic. "At the end of the day, I am honestly very proud of the performance we had."