Moran proud of JCU despite Marietta's Jason Eliis' 51-point game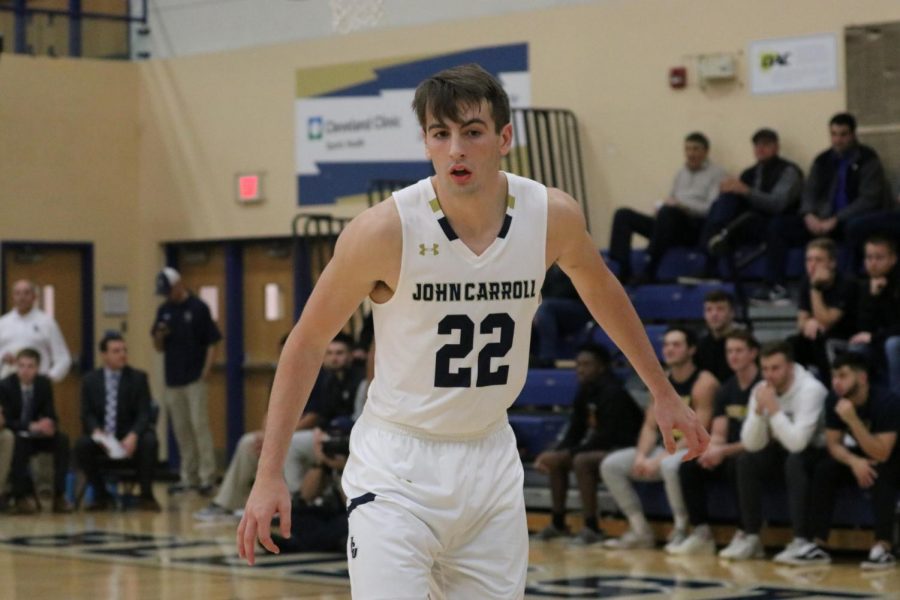 As it always is between John Carroll University men's basketball and Marietta, it was an instant classic.
A 51-point game by Marietta's Jason Ellis made it one for the ages.
Led by Ellis' historic afternoon, the Pioneers prevailed 104-98 to hand the Blue Streaks their second consecutive loss. However, JCU took the No. 8 team in the country down to the wire.
There are no moral victories for the Pete Moran-led Blue Streaks, but this one came quite close.
"There are a lot of positives to take away from the game," Head Coach Pete Moran said after the game. "At the end of the day, Jason Ellis had a career-night. I don't think we could've put five guys on him. I think he still would've walked out of the gym with 50 points."
JCU is coming off playing four games in seven days, their most gruesome stretch of the season.
"At the end of the day, I am proud of our guys' effort," said Moran. "Playing in a hostile environment. Our seniors stepped up and showed their leadership. Not to give up [when we were] down 15 … they fought back. I am more impressed with our performance than theirs."
Marietta had the 15-point, 64-49 lead with 15 minutes left and two of JCU's big men were in foul trouble. Junior Luke Hippler and senior Corbin Anthony had each accumulated four fouls. Meanwhile, junior Emil Hess was sidelined for the remainder of the game due to injury.
Then, the Blue Streaks turned to sophomore Emmett Chambers. 
Chambers played a pivotal role for the Blue and Gold, sparking a 21-5 run as JCU took a 70-69 lead with 10:29 left to play. He scored six of his career-high 13 points during that run, sparking the Blue Streaks' momentum.
"We don't get back into that game without Emmett Chambers," said Moran. 
It was then the senior Ryan Berger who flipped the switch, scoring 13 points as JCU clawed their way back into the lead for the first time in 18:20.
It became the Jason Ellis and Ryan Berger show from there. Over the next five minutes, Berger scored eight points and Ellis added four. 
However, Ellis' 51-point day ultimately overshadowed Berger's career-high 33 points, even on the day he scored his 1,000th career point as a Blue Streak. 
"He's a relentless leader. A four-year starter. A guy that knows what it takes to win at a high level," said Moran. "That is the type of effort and mentality that you need to compete at a high level."
Both teams traded blows, but then Ellis stayed hot with a crowd-jerking three pointer that gave Marietta the 84-82 lead with 5:13 remaining. They never gave the lead back up.
JCU fell behind as the Pioneers went 7-of-8 from three-point in the second half, improving upon their 8-of-18 total from beyond the arc in the first stanza.
The Blue Streaks led by six points in the first half, but then Marietta sparked a crucial eight-point run, which gave them the 50-42 lead.
"We are not ashamed of this loss by any stretch of the imagination. Coming off back-to-back games against nationally ranked teams and to fight like we did," Moran continued. "I am proud. I am excited about the future."
An edited version of this story appeared first on JCUSports.com