Being their best the top goal for Fino's team going into OAC Championships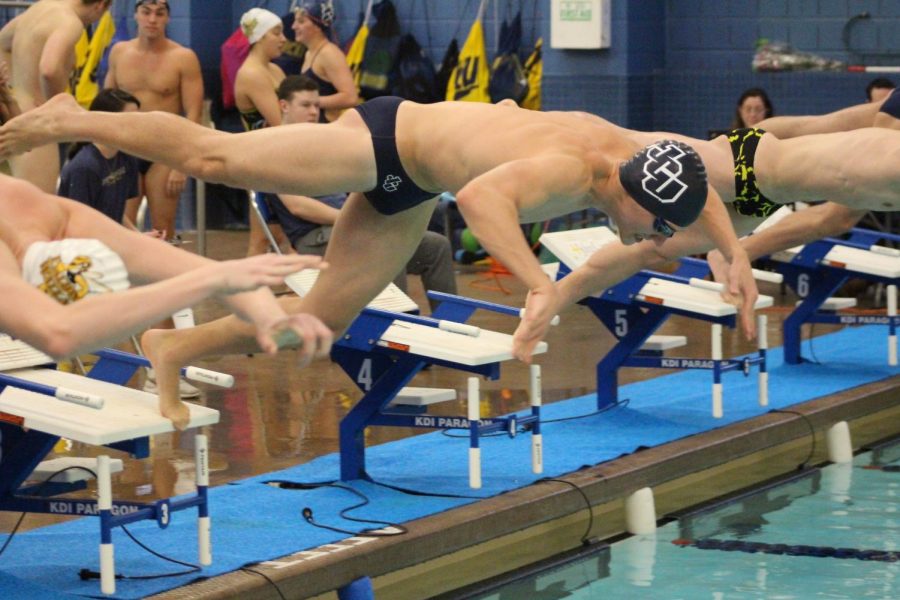 Three consecutive years and counting. 
It's fair to think that there is a certain expectation or pressure heading into the Ohio Athletic Conference championships for the John Carroll University men and women's swimming and diving teams to maintain their success.
That couldn't be further from the truth.
"There is no pressure. External expectations and external pressure are all contrived constructs," Head Coach Mark Fino said, sounding more like a philosophy professor than a swim coach. "For us, it is about us being the best team we can be. That is something we have been working on every day throughout the whole year. It is not what we have done in previous meets, or what we have done two, three years ago."
Under Fino's direction, the Blue Streaks men and women have won the last three OAC championships — in convincing fashion, too. So much so, the Blue and Gold essentially are competing for how many All-OAC accolades they can obtain, not whether or not they defeat their opponent. 
With each victory comes an OAC Coach of the Year honor for Fino and his staff. It is a tremendous achievement. His swimmers attest to his philosophical coaching style that challenges them physically and mentally.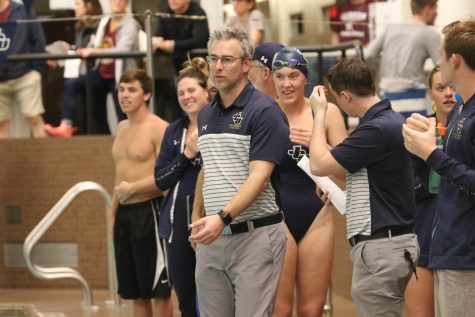 Sophomore Forrest Campbell, an NCAA Division III National Qualifier in four events, attested to Fino's unique coaching style.
"He really knows how to get in the minds of his swimmers and knows what's best for them. Sometimes it gets a little uncomfortable because he is able to pick our brains apart. That's what happens when you're a psych major," he said with an abundance of laughter concluding his outspoken thought.
Campbell and the men are undefeated heading to the conference championships. They haven't lost a meet since falling by nine points to Gannon 124-113 exactly 13 months ago. Their 7-0 record is the best season in school history.
With their undefeated season naturally comes a 4-0 record in the OAC. The most impressive part — they have beat their conference foes by 125 points on average.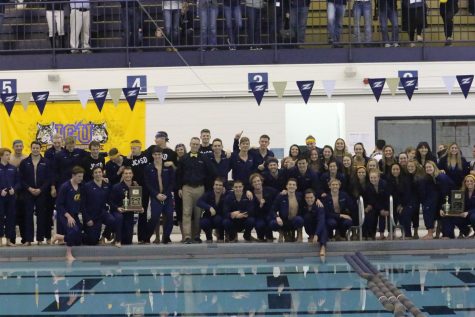 As the years have continued, the Blue and Gold have become stronger and deeper. A byproduct of Fino's recruiting and culture established by the current upperclassmen. With that comes an extraordinary circumstance. 
It is not far-fetched to acknowledge that the Blue Streaks are often competing against themselves for the first, second and third finishes in events. Swimming is just as much, if not more, about how individuals compete. Their finishes result in a specific number of points for their team based upon their individual results.
Barring the lack of competition in the OAC, the real challenge for a Blue Streak is beating your teammate — not those swimming in different-colored caps from the four opposing schools.
In the latest episode of the StreakCenter podcast, the official podcast of John Carroll University athletics, sports information director Chris Wenzler posed the question of what that dynamic is like: wanting to win for your team but also the challenge of beating a teammate.
Freshman Michael Heller, a top competitor in the 50-meter freestyle, has been in that position all season long. He was well-equipped to answer the question.
"It is definitely harder when you are trying to compete against your teammates for that top spot. It's like, 'I really want to beat you but I hope that you're also very successful,'" he said, describing the inner battle with a laugh. "You have to be willing to balance that and, at the end of the day, you want what's best for your teammate and your team."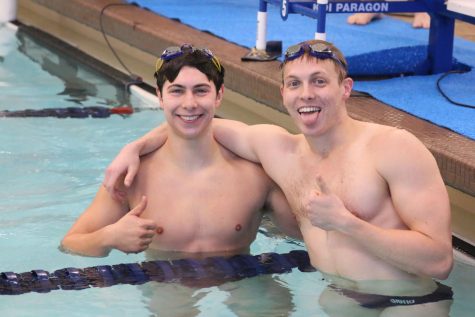 Reigning OAC Swimmer of the Year, sophomore Erik Sriubas, has faced that same challenge enough times over the last two years to know the feeling. It includes competing with his fellow teammate Campbell.
"As Forrest [Campbell] can attest, it is more intense when you're racing a teammate. You have been racing against them the whole entire year. You know what you've been doing and what he has been doing."
When looking at the men's side, Campbell, Heller and Sriubas do the heavy lifting. Then there are freshman Liam McDonnell and sophomores Matthew Pietsch and Adam Lenz, who carry their load too. They have combined to register four OAC Swimmer of the Week awards from this year alone.
Although the first and second-year swimmers combine for their fair share of the top accolades, it is the upperclassmen that have set the foundation.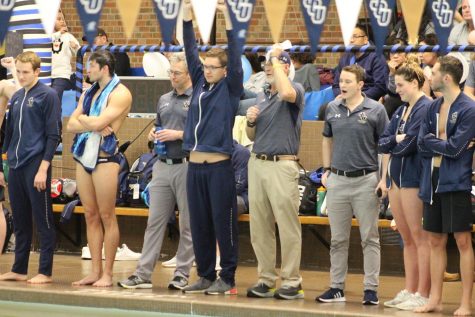 There's no overlooking senior Mason Beck, a two-time OAC Champion in the 200- and 100-meter breaststroke. Or fellow senior Jackson Cooper, an NCAA D-III National Qualifier in three individual events. Senior Patrick Folan and junior Dane Bonsvai are no strangers to All-OAC honors either.
"All of our returners are doing great and have been remarkable. From our seniors to our juniors, to our sophomores, they've been great with the freshman and helping them teach our philosophy," Fino said. " I have been very proud of this team and all that the upperclassmen returners have done to help get us to this level."
Fino provided an 'old adage' to describe how the upperclassmen have served as leaders, mentors and teachers to the younger swimmers.
"It takes a whole village to help children grow. It takes everyone to contribute in one way. That's what we're about. Everyone has contributed in a different way. That is expected and that's known, and those roles will change throughout the year and throughout the events."
The John Carroll men are great, but the women are just as great. They also are reigning OAC Champions the last three seasons and finished undefeated in the conference during their 2019-20 campaign. They've been victorious by 96 points on average in each meet.
Junior Gwyn Ledrick is perhaps the best swimmer between both men and women. Ledrick is an OAC champion in eight different events for a total of 13 times in just two years.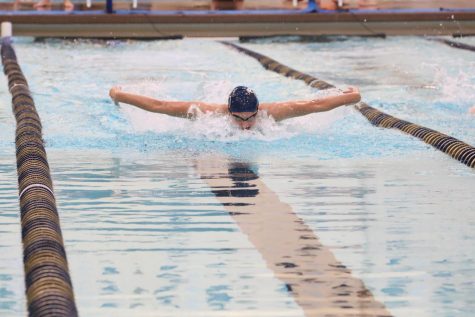 Ledrick has also been named OAC Swimmer of the Week an unprecedented seven times. On the national level, she is an All-American honorable mention in the 200-meter breaststroke (twice) and 100-meter breaststroke.
During the practice weeks, both teams practice with each other. They are around one another more than they're not. The only difference is the women weightlift at different times than the men and they also like to have a movie night on occasion. To no surprise, the characters of both teams are pretty much the same. 
"Your freshmen have different relationships with your sophomores, and they have different relationships with your juniors and seniors. They're all going to contribute and help in different ways and in different areas," Fino said.
"The freshmen can help the juniors and seniors and sophomores in terms of their enthusiasm and excitement. It is understanding that and teaching to that, and teaching [that] the idea to have fun."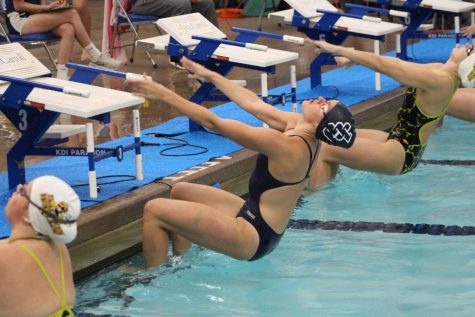 Even after nearly three weeks off, the Blue Streaks have momentum. After defeating Wilmington on Jan. 25, JCU extended its league dual meet-winning streak to 19 consecutive matches. They have been undefeated in dual meets in four straight seasons.
Freshman Maddie Panus capped off the regular season with her first career OAC Swimmer of the Week award. Fellow freshman Ynyra Bohan is a school record holder in the 200-meter butterfly. 
Of swimmers that have participated before — between sophomore Katelin Avenir, juniors Olivia Talamo, Tori Vale and Hope Scherger, and seniors Maddie Dolce, Felice Ferrante, Hope Scherger and Shelbi Shearer — they have garnered a total of 21 conference victories in individual events.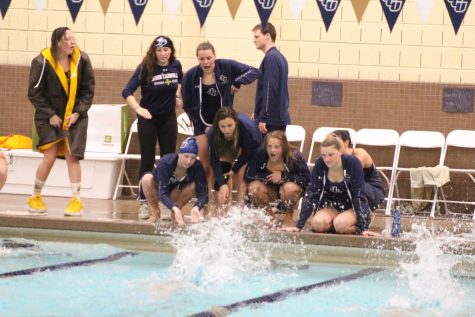 Although there has been a mass of success, Fino denies that there is any sort of expectation heading into this upcoming weekend.
"Every year is a new year and it is constantly redefining our team. I tell our kids all the time, it doesn't matter what came before us. It is about what we can do right now. We don't know what that is. Let's just be the best we can."
The OAC Championships are unlike any other event. It is three consecutive days of swimmers competing at their highest level. There are three hours of competition in the morning and then another three hours in the evening. It can be more challenging mentally and emotionally than physically.
"It is asking kids to be at their peak physical shape and competitiveness, along with high emotion, for six hours a day. That is hard. That is emotionally, draining and exhilarating. It is a very charged atmosphere," Fino said, painting the picture of the week.
"It is an experience unlike any other. It is exhausting for the kids and thrilling. It's an amazing experience. We talk about enjoying it. Let's not put any pressure or expectations.  Just be there and be present for the moment and enjoy that moment. Swim as hard as you can. Whatever will happen, will happen."
The conference championships are held at the University of Akron. Day one will begin on Thursday, Feb. 13, and the meet will extend until Saturday, Feb. 15. Both teams are looking to become conference champions for the fourth year in a row.
But as Fino said, "No pressure and no expectations."