High scoring fairs in favor of Kenyon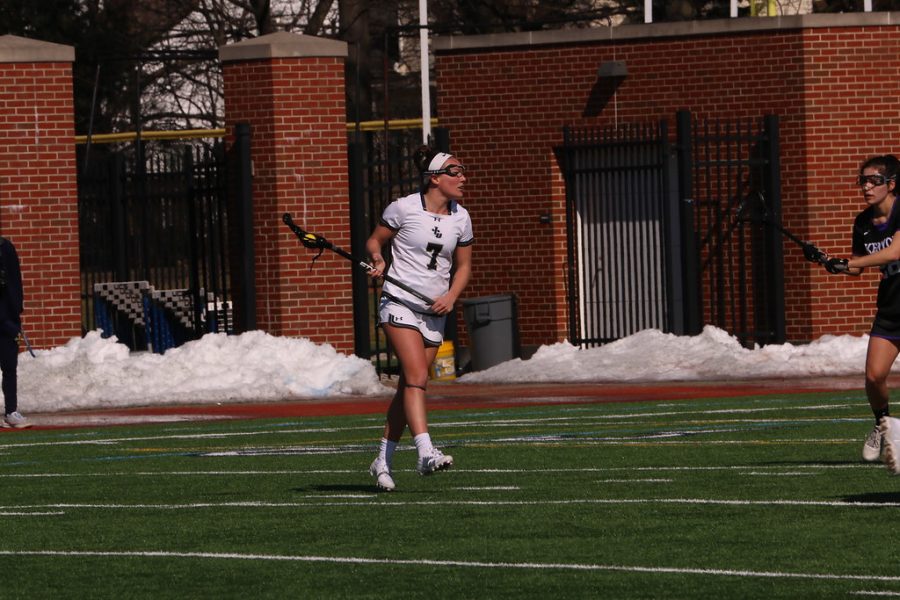 High scoring games will be the theme of the 2020 season for the John Carroll University women's lacrosse team. This past Saturday's game against Kenyon fit the bill.
A 42-goal showing fell in favor of the visiting Ladies of Kenyon, as the Blue Streaks fell 22-20 at Don Shula Stadium. It's fitting that the 42 goals scored in the game are the most in a game in John Carroll history. Seventy shots were taken over the course of 60 minutes.
Senior Colleen Grombala (8) and sophomore Alex Heishman (4) accounted for 12 of the Blue and Gold's 20 goals. Grombala was second team All-OAC last season and Heishman earned rookie of the year for her 11 hat tricks as a freshman.
Kenyon put the pressure on JCU early, outscoring the Blue Streaks 6-1 in the first 11 minutes. As a result, the closest the Blue and Gold came to the lead was within one point (10-9), but the Ladies responded with the next five goals.
Last season's second team All-OAC midfielder sophomore Emma Workman was held quiet on the offensive end with only one shot. She did cause a pair of turnovers that led the Blue Streaks.
The 2020 squad is quite young, with 10 freshman players on the 25-player roster; Grombala is the lone senior. First-year midfielder Kendall Gessner scored two goals in her first college game, in which she also started. Fellow freshman midfielder Olivia Gerlach scored her first goal and added an assist. 
The Blue Streaks will play five more games out-of-conference before they open OAC play on March 21 at Muskingum. JCU's next game is scheduled for Wednesday against Wittenberg.