Blue Streaks advance to OAC Semifinal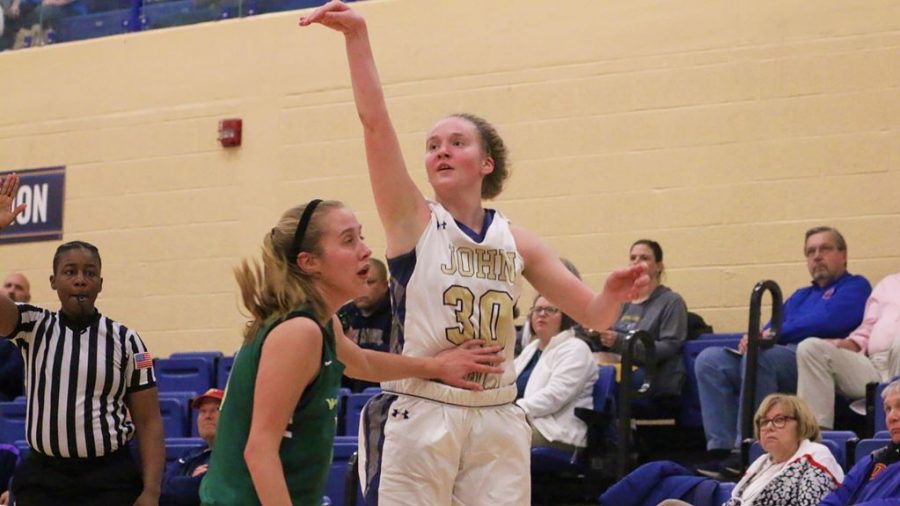 Beating a team three times in one season is hard enough. Doing it the same way in back-to-back seasons is almost unheard of.
That is exactly what the John Carroll women's basketball team did on Tuesday night.
In the Ohio Athletic Conference quarterfinal, the Blue Streaks defeated Wilmington by a final score of 79-67 at the Tony DeCarlo Varsity Center.
The Blue and Gold capped off their 2019-20 regular season with a victory over Wilmington on Saturday. Last year they saw the same sequence as the Blue Streaks won against the Fightin' Quakers in consecutive weeks. JCU went on to win the OAC Championship. 
Despite losing by 18 points on the same court three days prior, the Fightin' Quakers put up a fight.
John Carroll's largest lead in the first half was only six points. In the second half, the Blue Streaks led by as much as 11. Junior Abby Adler scored 14 points in the first 20 minutes of play.
In the third quarter, Wilmington tied it up twice, but each time the Blue and Gold responded with a strong run. The Fightin' Quakers cut it within one point with 8:39 remaining in the game, but JCU responded like they always do, with a run — this time a 7-2 silencer.
"We got stops and made shots. That was really it. They were such in an offensive role. There was a lot going right for them," head coach Kelly Morrone said after the game. "We just needed to get over the hump and that, for us, was stops."
JCU held the Fightin' Quakers to 33.3% shooting in the second half and outrebounded the visiting team 23-19. 
Morrone credited the team's resilience to their veterans.
"The game experience of Adler, Olivia Nagy, Nicole Heffington and Dani Carlson … I think that really shined as things got tight," she said.
Nagy led the game with 18 points and 12 rebounds. It was her 15th double-double registered this season. Carlson and Heffington each added 12 points.
The Blue Streaks will play Ohio Northern Thursday at the DeCarlo Varsity Center for the OAC Semifinal. The Polar Bears are the only team to beat JCU twice this season and have accounted for two of JCU's four total losses on the year.
John Carroll has won its last three games and 34 of its last 40 games in the conference. They are 12-1 at home this season; ONU was the only team to defeat JCU on their home floor.