Remembering Chris Wenzler
How do you even begin to write a column like this?
Chris Wenzler always knew that I was bad at writing ledes, so it is going to be tough writing anything anymore without his guidance. 
On Tuesday, June 23, we lost a truly amazing man. Chris Wenzler, the sports information director at John Carroll University for more than 30 years, passed away following a 26-month long fight with cancer. Chris was my boss, but calling Chris my boss seems like a disservice because he was so much more.
When I arrived at John Carroll for freshman orientation on June 12, 2017, Chris introduced himself to me during a session with more than 70 students in the Dolan Science Center. Luckily, Chris knew my name through a friend-of-a-friend I had met on Twitter, Joe Ginley (a former Carroll News managing editor). To this day, I wonder how he was able to pick me out of a crowd with many other clueless incoming first-year students.
I remember it like it was yesterday. So much so, I even remember exactly what he was wearing.
Chris came up to me wearing a white John Carroll polo with a yellow logoed decal on the left side of his chest. Somehow, without question, he knew it was me. During this encounter, it wasn't, "Hi, are you Kyle?" Chris came up to me and said, "Hi Kyle, my name is Chris Wenzler. I am the sports information director here. How is everything going?"
Looking back on this first interaction, it amazes me to think how down to earth a man of his prominence was during my first time meeting him. But that's just who Chris Wenzler was. He was Mr. John Carroll. The shadowed face of John Carroll University athletics. Not just the sports information director but, as I have come to find out, a celebrity in Division III athletics.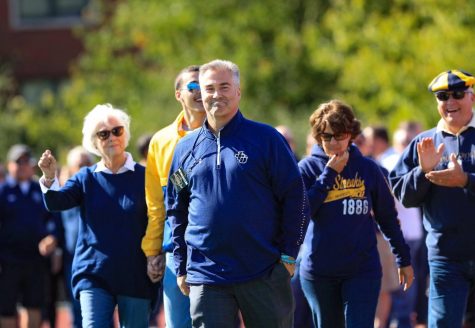 There were so many things about Chris that made him not only a great SID but an outstanding leader. After only meeting him once, he took a chance on me by making me a student assistant in the sports information department. Then, just before the school year began, I received a promotion to become a sports information office "captain." Without ever seeing me work, Chris had faith in me. 
To me, it was one giant leap of faith.
How did Chris expect a freshman to be a sports information captain for a football team that just reached the NCAA Final Four the previous year? Even before he knew me, even before I knew I could do it, Chris knew I could do it.
Chris wore many, many hats and balanced millions of things going on at once. While trying to manage 23 sports teams and be in five different places at one time, Chris always put others before himself.
During a time when I was given lots of responsibility for my work, Chris never wavered. He was patient with me. He worked with me. He trusted me. He believed in me. 
While reflecting on how Chris guided me along the way, I am astounded at how he could read people. He knew how to push the right buttons on every. single. person. He knew when to keep pushing me (and others) forward and when to lay off and sit on cruise control. It takes a special person to truly get the best out of everyone. I am thankful that he pushed me to achieve what I had never dreamed of. 
Although I was only blessed to know Chris for three very short years, his impact on me is worth three lifetimes. As I worked more in the sports information office, I began to know who Chris really was.
As many can attest, Chris was the epitome of a storyteller both in his writing and in the way he spoke. He was only 52 years young, but his wisdom was phenomenal. I could just sit back and listen to him tell stories all day long. He had a story for everything. It could have been about the most off-the-wall topic or something actually important to the job, but there was always a lesson to be learned.
I have taken over 100 credit hours worth of classes at John Carroll, and no one has taught me more than Chris. He has made a lifetime's worth of student loans worth it. In my wildest dreams, I never thought I could be paid to watch sports and that was Chris' pitch to every student that wanted to work in his office: "You get paid to watch sports."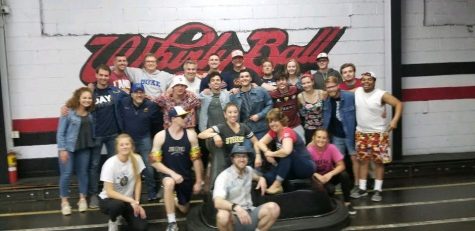 Being the sports information director at one of the NCAA's premier athletic programs was no easy task, but he made it seem that way. I remember his former graduate assistant, Dale Armbruster, told me something to the effect of, "You can't try to stop or change this well-oiled machine because it has been running strong for 30 years."

Over the last two-and-a-half years when Chris had to step out to fight his battle with such a terrible disease, I thought that I could step up and keep that well-oiled machine running. As much as I tried, it was impossible to fill his shoes. That's when I understood how special Chris was.
As his cancer treatments became more frequent, I realized how much our office depended on Chris. Even in his darkest, most trying days, he was always a text or a phone call away to offer a helping hand. 
I will never forget a department meeting last February when Chris informed us that a new treatment option would require him to spend lots of time in Washington D.C. As we sat in the darkened Murphy room, I remember the emotion that overcame him when he told us about this potential treatment that could save his life. Still, he was most concerned about leaving the sports information office he had built over 30 years.
Unfortunately, that day to go to D.C. never came.
When I remember Chris, I don't remember the burden of his illness. Instead, I reflect on his knowledge of people and his love for others.
In that same hallway of the Lombardo Student Center in the fall of 2019, Chris gave a speech in the LSC Conference Room as part of a series called the "Last Lecture." Google tells us the last lecture is what a professor would tell his students before he passes away. We never expected that less than a year later we would be without Chris. 
During his speech, Chris didn't really talk about sports, promote athletics or discuss anything job-related. Instead, he focused on telling stories of his immersion trips and life experiences. Unfortunately, some of those recent life experiences were his trials with cancer and the emotional toll that caused. Even though cancer entered his life and caused so much difficulty, he never let it affect his daily life in his work, students or family.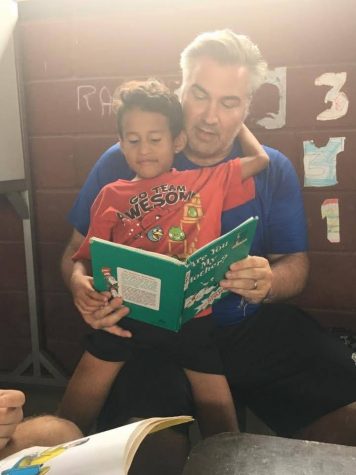 I only knew Chris for three years, but I came to know so much about him. I know how much joy, happiness, love, mentorship, accountability and friendship he brought to everyone around him. I know that he loved his job and his student workers, whom he trusted so much. I know he loved God and followed the Jesuit mission of being a Man for Others. And I know that even though Chris is no longer physically here, he is still with us in spirit.
I look forward to the day I get to see Chris again and thank him for everything that he has done for me. I am forever grateful for him welcoming me into the sports information family and giving me opportunities of a lifetime. Until then, his legacy will always live on. 
I smile knowing he is looking down on us all with that same set of eyes he used to mentor me and so many others. I find peace in knowing that Chris influenced a multitude of people around me. All those people are extensions of Chris, and they are living proof of just how great a man Chris Wenzler was.
Until we meet again, Bossman. Thank you for everything. We love you.