JCU vocab everyone needs to know
Knowing the lingo of your college campus is a vital part of making this new place your home away from home. John Carroll slang is like a language of its own. To help with the transition, here are the top 10 slang words or phrases to know:
Professor Andrew Welki's "Hello, Hello" – This greeting has been echoed by many and will never be forgotten. Associate professor of economics by day, campus celebrity by night, Welki's swift and cheerful salutation can brighten anyone's day.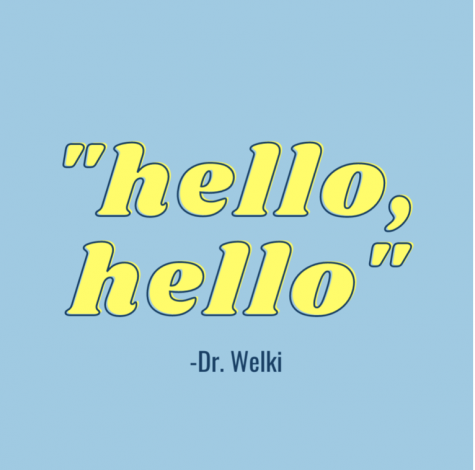 Ope – You plop down into your car ready to leave campus and accidentally drop your car keys. You bump into someone in the hallway or at the gym.. "Ope" is a common, quick expression Midwesterners use this when something happens unexpectedly and instead of "excuse me," or "sorry," an "Ope" is released. Midwestern onomatopoeias are all the craze on campus. Ope, Oofa, Ooh. 
Holding the door – This nonverbal action has earned its spot on this lingo list. Anyone who knows a John Carroll student or staff member knows that 99% of the time they will hold the door for strangers — even if that stranger is 15 feet away and has to do some weird fast-walk to get there.
Cabbie D – This informal school bus is highly unrecommended by JCU PD. For years, this party bus has transported students from campus to Coventry Rd. and downtown Cleveland. Students beware — there have been documented assault cases on the bus and it is constantly surveilled by police. Not to mention, being crammed on this bus is not COVID-19 safe.
Smelly Pacelli and Dirty Dolan – Two of the oldest dorms on campus, Pacelli and Dolan halls have seen their fair share of wear and tear. The not-so-deep nicknames should give you a fairly good idea of what it's like inside.
What's your Snap? – The question asked one too many times at B Side Lounge or makeshift bar in a Warrensville basement. We don't ask for phone numbers anymore at parties, strictly your Snapchat username or QR code. 
Bet – This word simplifies pretty much everything that needs to be acknowledged, understood or confirmed. Waste no more breath, and change your "Okay, sounds good" to a cool, lowkey "Bet."
 "I'm going to head to the gym after Bonda's class. I hope to see you there."
"Bet."
Caf, Admin and Reslife – These three nicknames refer to some of the most important places on campus. Instead of Schott Dining Hall, students have found something short and sweet: the "Caf." One of the busiest buildings on campus is the Administration Building, coined "Admin" for ease. Residence Life has mirrored the same short-slang, calling its own office "ResLife."
Mount Onion – The long-standing adversary to John Carroll University is Mount Union University. What may have started out as an athletic match-up has become a full-blown Northeast Ohio D3 school rivalry. On Nov. 12, 2016, the Blue Streaks football team severed the Raiders' 112-game regular season winning streak. To say the world rumbled and quaked was an understatement. It haphazardly turned Mount Union to Mount Onion. 
Onward On – This phrase welcomes us to John Carroll and sends us off into the world. "Onward On" is a special message we hear often on campus. It means together we can achieve greatness and keep on going. In summary, it means we freaking got this. If you hear our fight song, see The Carroll News' slogan or read the alumni newsletter, you may discover that "Onward On" is at the very root of many traditions.