The art of planning
Having a planner is a necessity in professional life. Whether you are a part-time student with the occasional sports practice, a full-time student who attends a myriad of extracurriculars or a professor who teaches five different courses, a planner can help you stay grounded and organized.
Personally, I did not start using a planner until my first year of college when I took 17 credit hours and worked up to 40 hours a week as an assistant manager at a retail store. I quickly realized in order to stay sane, I first had to be methodical and orderly. After purchasing my first planner, I learned the art of time management. 
I began to see unused minutes in my schedule. Overtime, I learned how to maximize my schedule to the best of my ability, which allowed me to become more involved on campus with my newly found free time. 
Now, I am involved with a multitude of organizations at JCU, maintain two occupations and a decent GPA. I attribute this success to my planner and how I utilize it. Through color coding and whiteout, I can manage life and whatever it throws at me.
If you are considering buying a planner, I would suggest purchasing one that is pleasing to your eye and mind. Planners are organized in different ways, such as by the hour of day, week or month. I prefer a daily planner because it best suits my needs. 
It is just as important to enjoy your planner visually. If the cover  does not spark your interest or promote joy, you are less likely to use it. My planner has a llama with a flower crown on the cover and inspirational quotes on each page.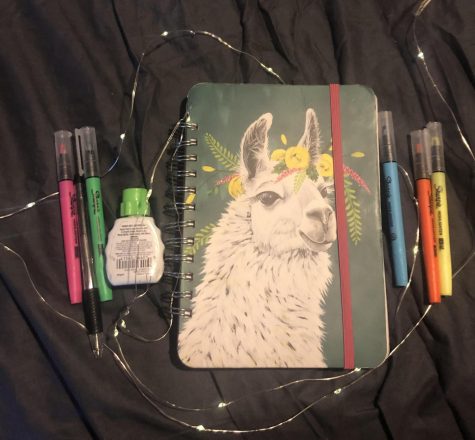 Next, you must decide how you want to read your planner, which can seem tricky. It is best to write down your plans in chronological order per day or week, depending on the planner style. However, sometimes you must write down a last-minute or pop-up event, which does not flow chronologically. 
After writing down your plans, color coding is the next step. You can color code by importance or type of event. Personally, I highlight my extracurriculars yellow, classes blue, assignment due dates orange, work shifts green and Twitch livestreams purple. If you prefer a different way of color coding, you can use colored pens rather than highlighters.
I write down all my plans two weeks in advance and understand they are subject to change, which is why I keep a container of whiteout handy. While you may choose a different approach or style of organization altogether, planning is key to maintaining a balanced life.