Pixi Gives us a Fair Glow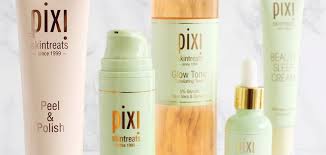 Affordable cosmetics with good quality are hard to come by but, as college students, it's something we must live with. In Target, Sephora, Ulta or even Amazon, there's a brand in the makeup section that should not be passed up. Pixi Cosmetics defines themselves as makeup that makes their buyers "flawless in a few fuss-free minutes." The idea of natural beauty is the primary aspect of their brand. If you're looking for skincare that actually works, here are five of their highest rated products to try.
Glow Tonic
This highly concentrated toner has been given the Teen Vogue Acne award of 2017. It cleans away oil and dirt in your pores with many different ingredient carefully brought together for your skin. It exfoliates with Glycolic Acid, hydrates with aloe vera, energizes and glows with ginseng, a South Korean plant known to brighten and reduce wrinkles on skin.
Endless Silky Eye Pen
Called the "waterproof, super-long-wear, no-smudge, no-budge" eyeliner, this product glides on with ease and is even compared to silk. You won't have to worry about reapplying because the no-smudge formula is made to last all day and all night.
Overnight Glow Serum
Simply apply this serum before bed and you will wake up with a glowy complexion. It is sold as an exfoliating gel that reveals a radiant skin tone. Packed full of vitamins to naturally improve complexion and reduce the appearance of fine lines and sunspots over time, this will easily become a favorite.
MultiBalm
Unique in nature, the MultiBalm has multiple uses, hence the name. It is a two-in-one cheek color and lipstick. It awakens the skin by adding a touch of color to the face, wherever might need some color. It is recommended that you try a shade of the lips and cheeks to pull off a monochromatic look.
Rose Caviar Essence
Infused with concentrated flower oils, this weightless serum is to be used after cleansing and toning. It is said to melt into the skin to naturally improve skins brightness by nourishing and hydrating with fresh botanicals. It is also suitable for all skin types so anyone can enjoy the immediate and long-term radiance.
Editors Note: Information taken from Pixi's website.