Rescue and reconstruction in Indonesia after tsunami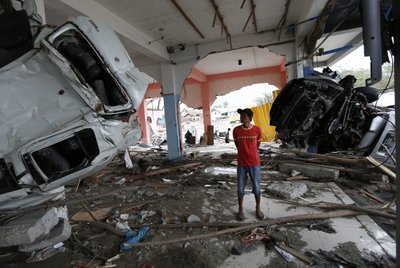 Originally published 11 October 2018
Officials report that upwards of 5,000 victims of the recent earthquake and tsunami that struck the Indonesian island of Sulawesi could still be missing.
The official death toll was reported at over 2,000 as of Tuesday. Most of these victims are from the city of Palu and are being buried in mass graves. A further 70,000 people were displaced from their homes by the disaster.
Sutopo Purwo Nugroho, a spokesman for the Indonesian disaster agency, has stated that the search for survivors is currently scheduled to end today.
One of the volunteers assisting with the mass burials, 48-year-old Asep Junaedi, said that 643 people have been interred in a single mass grave thus far.
Officials expressed concern that the large number of bodies could spread disease as they decompose.
Muslim survivors in Palu have made their way to heavily damaged mosques for Friday prayer services which, in some cases such as at the Agung Mosque, were held in open fields outside the mosque rather than inside the damaged building itself.
One regular worshipper at the mosque,  Abu Shamsuddin, lost his son in the earthquake and took comfort in his religious faith to help him overcome his grief. He expressed his belief that his son, who was praying at the time of his death, has gone to heaven.
Christian survivors of the disaster have also made their way to Palu to attend services, including some whose regular churches in rural areas were destroyed.
"I'm here because my own church is no more," 49-year-old teacher Min Kapala told Sky News. "It's levelled, and on its location there's a corn plant. That was very strange to me."
The earthquake, a magnitude 7.5 on the Richter scale, saw entire neighborhoods buried under debris and liquefied soil, and the subsequent tsunami demolished miles of the island's coastline. The sheer scope of this destruction makes it difficult to determine exactly how many remain unaccounted for.
"Miles of the coastline are a surreal landscape of house foundations, upturned cars, beached cargo containers," The Associated Press reporter Stephen Wright said. "Some people have taken to scavenging in wrecked warehouses for food and other essentials."
A major relief effort is now underway. Great Britain's Royal Air Force has flown in 17.5 tons of supplies, and Queen Elizabeth II has made a monetary donation to the relief effort.
Wright added that, although power has been restored to some parts of the city, "there is still weeks of uncertainty ahead for this deeply traumatized community."
The shallow-water earthquake was 200 times more powerful than the atomic bomb U.S. forces dropped on Hiroshima during World War II, according to The Associated Press. It triggered the tsunami that headed straight for Palu Bay.
Indonesian scientist Gegar Prasetya predicted that an earthquake would devastate Palu Bay several years ago. He cited Indonesia's position on the Pacific Ocean's "Ring of Fire," where increased volcanic and tectonic activity is present and records of previous earthquakes near Sulawesi.
"[I] knew right away," he said. At the time, he was meeting with government officials and residents of the island to raise awareness about the threat of an earthquake-tsunami event. "I posted in our group and I said, 'It's happened.'"
Editor's Note: Information from The Associated Press was used in this report.