COLUMN: Out with the old and in with the new: NFL starting to shift at QB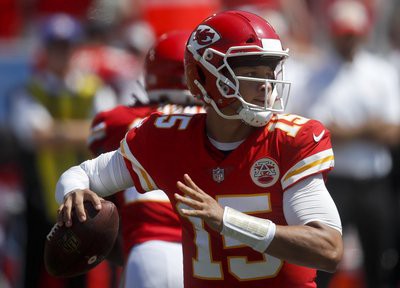 There is a new era of quarterbacks taking over the National Football League, and last week's game served as proof that the young talent is suited to soon become the face of the NFL.
Turn on an NFL game and there are a few pointers that are easily noticed during each and every game. They're quite simple to notice actually. Quarterback is the most valuable position in all of sports and opposing defenders better do all they can to tackle the professional passer safely; otherwise they will be flagged.
A certain group of quarterbacks have ruled the NFL for quite some time. Tom Brady, Eli Manning, Ben Roethlisberger, Drew Brees and Philip Rivers have been widely touted as the best five quarterbacks in the NFL for the last decade. These quarterbacks share two things in common: First, all five of them will be inducted into the Hall of Fame. Second, they are all over 36 years old and nearing the end of their careers.
Coincidentally, there are five young quarterbacks that are showing that they could take over the reigns of those talents someday. Carson Wentz, Patrick Mahomes, Deshaun Watson, Sam Darnold and Jared Goff are primed to take over the NFL as the league's next set of stars at the quarterback's position.
These quarterbacks share two things in common as well. They are all under 25 years old and all have thrown for at least two touchdowns in a win thus far in their young careers.
Of course, it could be a bit early to crown these five quarterbacks as the future of the NFL, especially with another five young veterans primed to take over the reigns of Brady, Manning, Roethlisberger, Brees and Rivers in the interim.
Russell Wilson, Andrew Luck, Cam Newton, Kirk Cousins and Derek Carr are likely to sooner fill the shoes left by the NFL elders.
Either way, the quarterback-driven league is shifting from the old to the new. The elders (excluding Brady, an outlier, because he never loses) all lost or tied in week one of the 2018 season. The young 'uns all won (excluding Watson because he was beat by Brady) in their season openers.
It will be exciting to watch these young talents take over the NFL over the next decade.