JCU Cross Country team racing in Notre Dame University Catholic Invitational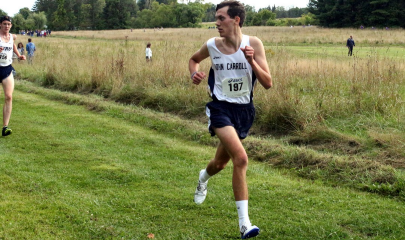 The John Carroll University Blue Streaks cross country team is preparing for an important race this upcoming weekend.
Friday, Notre Dame University in South Bend, Indiana, is hosting the National Catholic Invitational, a race that features Catholic school cross-country runners from around the country. This will be the first time the Blue and Gold will compete in the race.
John Carroll runners kicked-off their season on August 31st at the Sudeck Sunset Classic at Stampede in Hunting Valley, Ohio, a competition hosted by Case Western Reserve University, a local competitor.
Unfortunately, the Blue Streaks season did not start on the right foot as they lost 39–20 to Case Western. Sophomore Jamie Dailey had the best individual finish for the Blue and Gold, finishing third overall at a time of 19:55.5.
The Blue Streaks are looking to improve from their first competition this weekend in South Bend.
"Since the last competition, we have tried to change our mindset. Our key is our racing strategy," Dailey said.
Dailey, one of the Blue Streaks' top runners, is looking towards this week's competition as a perfect challenge for the JCU racers. "It will be a great test for us. We will be competing against some great teams that will push us right out of the gate," said Dailey
Not only will the National Catholic Invitational present challenges, it will present a new opportunity as well. The Blue Streaks will compete in their first eight-kilometer race of the season in South Bend.
Eight kilometers may seem like a lot to the average runner, but to a cross country competitor like Dailey it is just another day at the office.
Runners have their own goals but they have team goals as well.
Dailey said, "We are looking great as a team. Our main goal for this season is to earn a top finish at regionals, which would qualify our team for the national tournament."