An Uphill Battle for Danko becomes History in the Making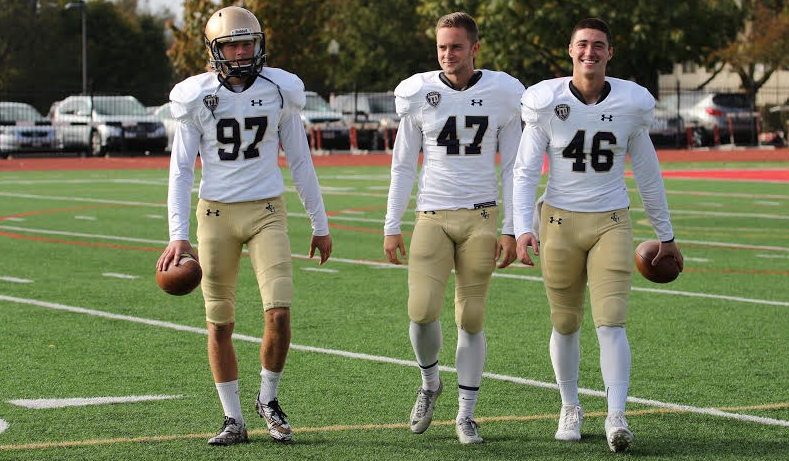 In sports, becoming top-five all-time at your school in any category throughout your collegiate career is difficult. Becoming top-five in one of the most mentally challenging aspects of football and doing it successfully physically is as impressive as it gets.
On Sept. 29, senior kicker Matt Danko made the 21st field goal of his career, positioning himself fifth all-time in field goals made as a Blue Streak.
It was a sunny day in New Concord, Ohio, with just a six mile-per-hour wind at his back and the Blue Streaks leading the Fighting Muskies of Muskingum by 27 points. Kicking a 36-yard field goal in this specific situation was not too difficult for Danko.
Aaron Cunningham snapped the ball, junior Anthony Moeglin held and Danko kicked the Blue Streaks into the half with a 30-point lead — and himself into a new place in the John Carroll record books.
"When I heard after the game, I didn't even have a clue," said Danko when interviewed later.
Being one of the best kickers in school history figures to come easy for some but, for Danko, it was a road of obstacles he could have never imagined. One thing about being a kicker in football is that all it takes is one kick to ruin your season and put your career in shambles.
One of the worst games of his career almost did just that for Danko. "I had a horrible game against Mount Union my sophomore year. I missed a field goal at the beginning of the game and then missed two extra points. It was not good. I almost lost the game for us. I would have never forgave myself if that was the case," Danko said.
Danko's sophomore season in 2016 was one he would most like to forget. He only made four field goals on 12 attempts, posting a career-low 33.3 percent field goal percentage. "It was not my best year by any means. I was in my own head. I knew I had the talent, but I was just not there mentally."
As just a sophomore, Danko was trying to do it all himself on special teams. He kicked field goals, punted and was the kick-off specialist.
For a 19-year-old kid, balancing kicking field goals, punting and kicking off is quite difficult. Most football teams have their own punter, another person as field goal kicker and yet another as the kick-off specialist. Trying to do all three led to a difficult season for Danko.
Although the stats told a poor story for Danko's sophomore year, the season told another. Two of the most memorable kicks of his career came in the postseason that year. The Blue Streaks nearly clinched a National Championship berth, making it all the way to the final four in 2016.
It all changed with just one kick.
"We were playing Wisconsin Whitewater in the quarterfinals and it was a close game. Each team had four possessions in the second quarter and all the possessions finished with punts. We came out and scored, had an interception and scored again. I had the chance for a 33-yard field goal. It was successful, sneaking in the right upright. It was my best kick of the year. I hit it perfect, I felt confident. That is what I needed," Danko described.
The following week against Wisconsin-Oshkosh, Danko made another successful kick that was quite memorable.
"It was probably the biggest kick of my career," Danko said. "It was a 31-yarder in the freezing cold. I never kicked in the freezing cold before in my life. We were down in the fourth quarter and it kept us in the game. I made it 10–3 score."
Danko is a native of Boca Raton, Florida, so the cold weather was unfamiliar to the kicker. When he visited John Carroll for the first time, it was quite the experience for Danko, being his first time up-north.
"It was my first time being up in Ohio. It was not my first time seeing snow. I went skiing in Colorado a few times. It was my first time living in snow, for sure. Walking around, and I had to put my jacket on for a Friday night. It was freezing. It was, like, 20 degrees out," said Danko.
So how exactly did Danko end up 1,049 miles north of his home? He was recruited by former John Carroll defensive coordinator Chris Shula. The John Carroll football coaching staff recruits heavily in Florida, being that legendary coach and John Carroll alum Don Shula was so successful with the Miami Dolphins.
"I participated in my high school's county all-star game my senior year of high school. Actually, a rival coach suggested I talk to Chris Shula afterward. I then came up for a visit in February and I loved the school. There was three feet of snow everywhere. It was cool. I loved the campus, I loved the coaching staff — it was actually an easy decision. I never thought I would come all the way up to Ohio but I would not change it for the world," said Danko.
Now in his senior year as a Blue Streak, Danko has made history. Being the team player that he is, the achievement is special but there are bigger goals that lie ahead, he said.
"I do not look much into the accolades and all that stuff. We harp, as a team, on making the team better. I focus on doing my job. I try to make the kicks."