Scello leads way with 2 goals in 4–0 win against Muskies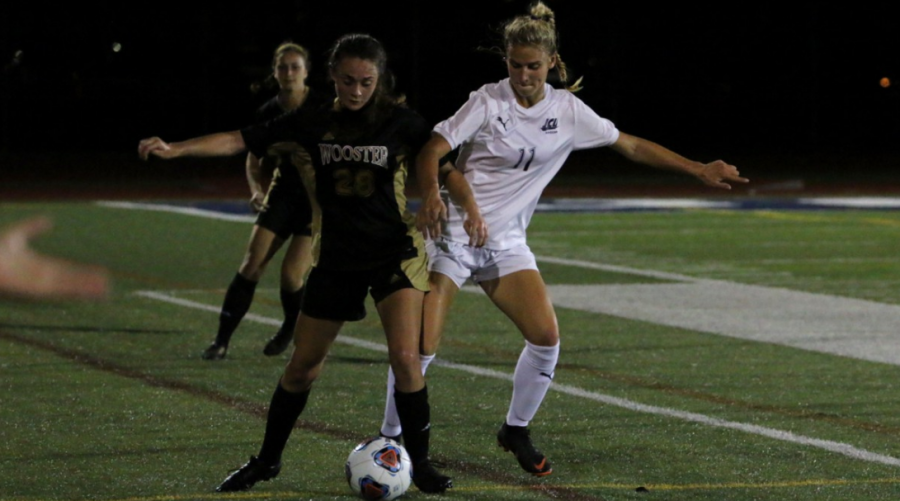 For a team that has struggled to score all season long, a four-goal game in the Ohio Athletic Conference opener was impressive for the John Carroll Blue Streaks.
That's what happened when the women's soccer team traveled to New Concord, Ohio, on Sept. 29 to take on the Muskingum Fighting Muskies in the first conference matchup of the season.
It did not take long for the Blue Streaks to start scoring and, once they did, the goals came one after the other.
JCU scored four goals in a matter of just over 12 minutes, putting the game out of reach of the Fighting Muskies. At 20:58 into the match, sophomore Sydney Scello found the back of the net, with an assist coming from junior Jaclyn Auino.
Just 3:04 later, the second goal was scored by freshman Brittany Dufalla, off a pass from sophomore Rachel Braunegg.
Not satisfied with one goal, Scello scored yet another at the 31:11 mark, extending the Blue and Gold's lead to 3–0. Scello's two-goal game was the most in a single game in her career.
"It was great feeling scoring two goals in the first game of the conference. I hope I can keep the momentum up for the games to come," Scello said afterwards.
Senior Bailey Fischer assisted on Scello's second goal.
Being the goal-scorer she is, Fisher was not pleased with just an assist, and 2:17 later she scored a goal of her own, her sixth of the season. Fischer leads JCU in goals through 10 games.
In the 4–0 win, the Blue Streaks peppered the Muskingum goalie with 33 shots, 14 of them landing in goal.
Next on the schedule is rival Mount Union on Oct. 3 in Alliance, Ohio.