Two Conference Wins at Home Honor The Seniors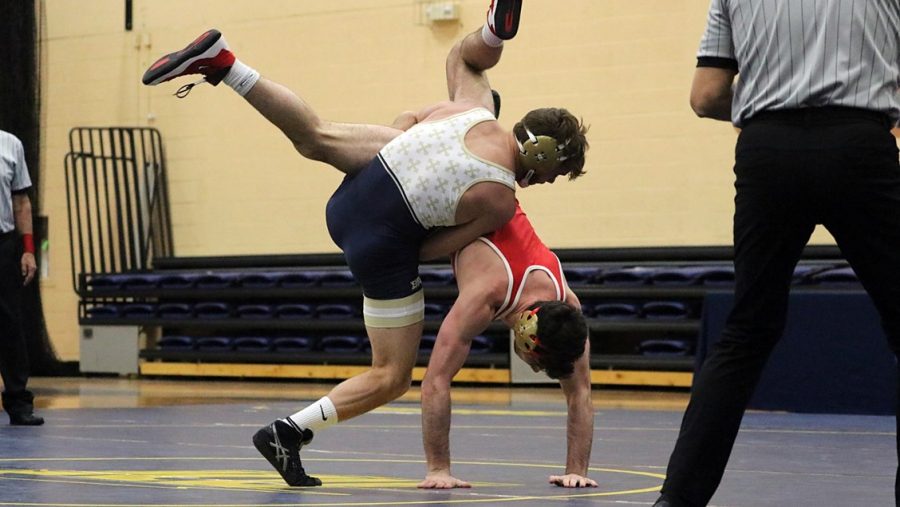 Sean Freeman, Staff Reporter
January 22, 2019
Winning a conference dual against Otterbein on senior night, Jan. 15, set the tone for an overall successful week on the mat for the Blue Streaks.
Edging out the Cardinals in a tightly contested 25–21 match on Tuesday, the Blue Streaks would fall to the Purple Raiders of Mount Union on Saturday by a score of 41–6. They ended their Saturday tri-meet victorious against Ohio Northern, defeating the Polar Bears 30–9.
John Carroll's six seniors were honored leading up to the Otterbein match, accompanied by their parents and coaches. After the celebration of their careers, the Blue and Gold went to work early. John Carroll dominated in the light- and middleweights, setting a strong lead against Otterbein early and jumping ahead 25–3. Alongside the victories of Andrew Perelka (forfeit), Jarrod Brezovec (7–2 decision) and Danny Novak (major decision 11–3), seniors Jarrad Lasko and Sam Gross pinned their opponents in the 149- and 165-pound divisions, respectively.
Otterbein, however, had the contest still within their grasp as their strongest players were in the final four matches, although they trailed by 22 points. That was, until JCU's Christian Hipsher took to the mat in the 184-pound class. Despite his loss, he only relieved the smallest number of points, thereby putting the match's decision permanently in John Carroll's favor, giving them their seventh conference win of the year.
Following the meet against Otterbein, John Carroll hosted both Mount Union and Ohio Northern four days later. JCU opened the morning of wrestling against the Purple Raiders.
Despite the strong effort from all of the wrestlers, primarily in Jeff Brichford's, Joshua Stasek's and Hipsher's matches, Andrew Perelka would garner the only points for the Blue Streaks, pinning Seth Hayes in less than four minutes.
Against Ohio Northern, the tide swayed in John Carroll's favor. Perelka garnered another pin and his teammate Spencer Dusi joined him in adding six points each to the Blue Streaks' effort. Kyle Murray, Daniel Novak, Hipsher and Stasek all added to the Blue and Gold's winning campaign, sealing the 30–9 victory.
After this week's action, John Carroll improves to 8–3 overall and 3–2 in the OAC. They will take to the mats Friday, Jan. 25, at the two-day Wheaton College Pete Willson Invitational in Wheaton, Illinois. Action is set to begin at 11 a.m.