Colby breaks new ground as Streaks chase records at the Midwest Open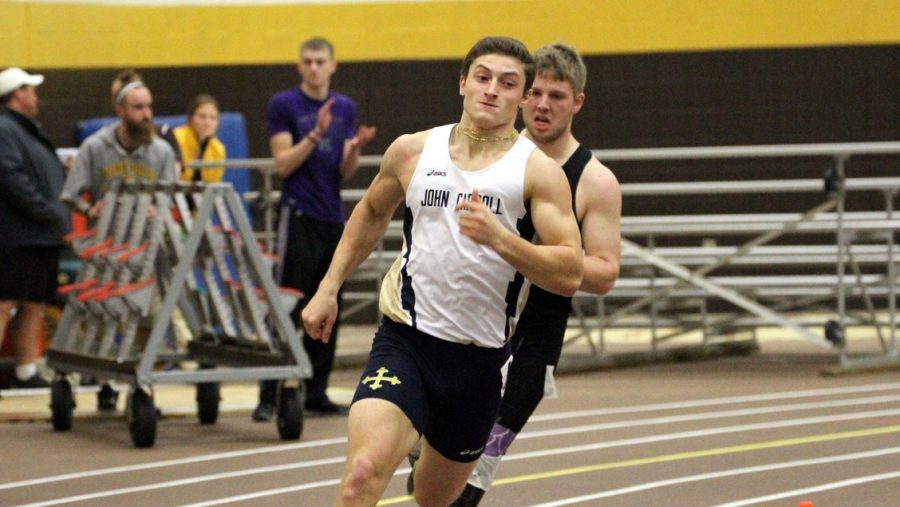 Sean Freeman, Staff Reporter
January 29, 2019
On their home track, the John Carroll Blue Streaks men's track and field team demonstrated their strength and depth last weekend during the unscored Midwest Open at the SPIRE Institute in Geneva, Ohio.
Amongst a plethora of runners, throwers and jumpers, the Blue and Gold displayed their eagerness and preparation for the upcoming Indoor OAC Championships.
Senior Nick Colby broke the John Carroll weight throw record for the second time with an 18.34 meter mark, approximately two feet further than the previous record holder Rocky Mitolo.
The road to this achievement has been long and meaningful for Colby. "I have been training weight throw since the end of June because I knew it was my weakest event and my only event indoor," he said. When the judge came back with the record-setting mark, Colby said he "was absolutely ecstatic."
Despite etching his name into John Carroll history, the senior is not satisfied, adding, "Both times I've broken [the record] there have been things I [knew] that could have been better, so there is definitely more to come."
While the Blue Streaks would continue to have strong performances across the board, no other school records would fall. However, that did not stop competitors from getting close.
Sophomore Deven Ward finished his 200-meter dash a mere 16 hundredths of a second off from teammate Hayden Snow's school record in the event. While the notch remains unbroken, Ward landed the 11th overall spot out of 123 competitors.
Sophomore Booby Fogle ran a fierce 400-meter in 49.88, just 0.32 seconds short of Will Cameron's record. Nonetheless, Fogle earned top 10 in the field of 74 runners for his mark.
Ward and Fogle would get another chance to make JCU history in the 4 x 400 relay. The squad of senior John Iannetta, junior Hayden Snow, Fogle and Ward completed the relay in 3:20.99, missing the JCU record by 1.06 seconds.
Meanwhile, out of the 20 competitors, junior Corey Minton landed the top spot in triple jump with a 14.08-meter display.
When asked about the team's stellar performance over the weekend, Colby lit up as he talked about his teammates' improvement physically in addition to their team chemistry. "Moving forward, we are going to keep trusting the process … working toward our goals and setting new and bigger goals when we reach them. Enjoying each moment, but never being satisfied."
The men will travel to Youngstown, Ohio, this weekend to try their luck in the Mid-Major Invitational beginning at 3 p.m. on Friday, Feb. 1.