Readin' with Rachel: A career amidst the pandemic
If you're like me, you're struggling to stay afloat these days. This year has been crazy, believe me, I know. However, those external circumstances aren't the only thing stressing me out. Figuring out how to get a career after college is also making me panic. These days, two questions are plaguing my mind: how can I get an internship amidst the pandemic, and how will I be able to have a meaningful experience there?
I was lucky enough to have an internship with a newspaper over the summer, and it was one of the most fulfilling experiences of my career. However, I always thought about the missed opportunities of not being in the newsroom. I always dreamed of being in a bustling newsroom, rapidly writing my next big story. When I got the job, it was all I could think about. However, the pandemic happened, and the rest is history.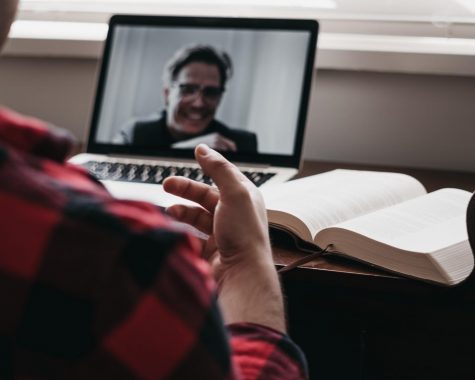 I was forced to work remotely, and it was hard working at home alone. This was my first internship and real newsroom experience, but I felt like I had no other journalists to talk to. I was lucky to live in a quiet household with my grandparents who always made sure I was happy and fed. Nevertheless, part of me yearned for the newsroom experience. 
I know it is very likely I might have to do that again during my next internship, that is, if any places of work are offering internships. According to a May 2020 survey by the National Association of Colleges and Employers, 22% of employers had revoked internship offers in light of COVID-19. So, it's a double-edged sword: there are either no internships or likely only virtual ones. My heart fell. 
Don't get me wrong, I am incredibly privileged to have these types of experiences, but I can't help but yearn for an in-person internship. I felt this way until an epiphany hit me.
My last internship, as well as my next one, are completely unique. I am learning skills that I never would have learned if the pandemic had never hit. Now, I'm proving to myself and my future employers how adaptable I am. The same goes for everyone else who is searching for internships or job opportunities right now. You are adaptable and resilient. 
Adapting our lives to keep ourselves and others safe is the No. 1 priority. So, if our next work experience must be online, why not make the best of it? We should take this time to learn how to adapt our work to the pandemic, or any obstacles for that matter.
As the pandemic trudges on and the holidays approach, we need to practice patience with ourselves and the world. Everyone is scared and craves physical human connection. But until then, we must wait and look at the bright side. There is still a lot to learn during this trying time, but I plan on using this time to my advantage.