Kacey Musgraves comes back down to Earth with fifth album "star-crossed"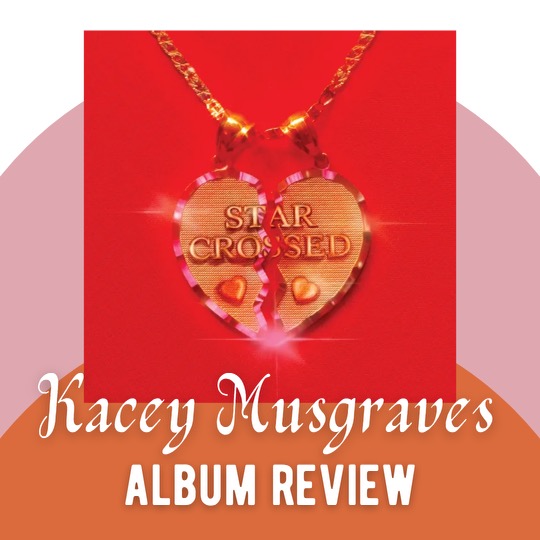 They say heartbreak makes for great music. After Kacey Musgraves and now ex-husband Ruston Kelly told E! News they were getting a divorce in July of 2020, users on Twitter immediately geared up for her new, as some put it, "divorce" album. 
how can i make Kacey Musgrave's wildly personal divorce album about me

— mattfred (@itsmattfred) September 6, 2021
The phenomena of a divorce album seems to reflect our desires to commiserate together over melancholy music: even if we are unable to relate, we will find ways to. 
When comparing "Golden Hour" to "star-crossed," Emily Jane MacDonald '22 says, "this album has more of a sad feeling to it." 
And for understandable reasons. 
In "star-crossed" (stylized in lowercase), Musgraves tells the life-altering story of her marriage turned divorce, casts irony on the intricacies of being a good wife and justifies her polarizing emotions surrounding it all. The album and corresponding film "star-crossed: the film" aesthetics show heavy influence from the Romeo and Juliet trope, nodding to the term "star-crossed lovers." 
If Kacey Musgraves's "Golden Hour" album was a love-struck, hazy trip to outer space, then her fifth studio album "star-crossed" would be the account of her humbling trip back down to Earth. 
The album begins with the titular song, quite literally "setting the scene," as the lyrics go. Musgraves's sighing woo's are followed by old Spanish guitar plucks, graceful harp and dramatic synth lazer effects. 
After the wild success of "Golden Hour," the Texas native pioneered an aesthetic of the 'Space Cowboy.' The name of the 2018 album's seventh track reflects a style consisting of glitter, pink cowboy hats, gogo boots and iridescent clothing. 
Musgraves's juxtaposing sound of new age country and upbeat pop synths is still present in her latest album. 
"star-crossed" loosely mirrors the stages of grief, with an overarching mellow feeling throughout. 
Lyrically, the middle of the album abundantly asks the question, "what if?" Musgraves bargains with the loss of her marriage with the repeated use of the word "if." 
On the song with the most Spotify listens, "justified," she sings, "if I need just a little more time to deal with the fact that you should have treated me right." 
Musgraves begins to show how she has moved on, without vengefulness or angst. The only song that seems to bark back at Kelly is "breadwinner." Here, Musgraves comes to terms with the breakup and recognizes her worth.
At points in the album, it almost sounds like tracks blend together, creating uncertain beginnings and ends to each song. It makes for a smooth listening experience, but it is difficult to differentiate certain songs as special, sound-wise. 
"star-crossed" does close with a sense of uniqueness: a cover of Violeta Parra's "gracias a la vida." The song translates to "thanks to life" and closes the album with a full-circle ending, featuring the same Spanish guitar strings and graceful harp hums from the first track. 
The final stage of grief: acceptance. Musgraves seemingly thanks her ex for their three years of marriage, summarizing the memories and mixed emotions reflected upon in the songs prior. 
"star-crossed: the film" is available on Paramount+. Based on the trailer, it is clear that the film is a dreamy extension of the album, featuring Musgraves ascending into a church wearing a dramatized wedding dress carried through a hospital hallway on a stretcher.