COVID-19's impact on student athletes' mental health at John Carroll University
Almost everyone has experienced adversity during the COVID-19 pandemic. 
At John Carroll University, the uncertainty of COVID-19 has brought on unsettling mental health challenges for many student-athletes. 
Before the pandemic, according to the Timely MD, with the stress and heavy workload on student-athletes, collegiate athletes are 2% more likely than their non-athlete counterparts to experience severe mental illness. 
About one year after the beginning of the COVID-19 pandemic, the NCAA conducted a survey that found mental health concerns amongst student-athletes were 1.5 to two times higher than what the NCAA has previously experienced. 
Nearly two years later, the topic of mental health and COVID-19 is still hitting hard amongst John Carroll student-athletes. 
COVID-19's Impact on College Athletes' Mental Health 
Meet Alexandria Heishman '22.
Heishman has been one of the stars of the John Carroll Women's Lacrosse team for the past three years, including being named 2019 OAC Freshman of the Year.
As a student-athlete herself, Heishman realizes how much the pandemic has affected the mental health of student-athletes.
"We had our 2020 season taken away from us," said Heishman. "The scary part was on New Year's Eve of 2019, we had absolutely no idea what was in front of us and what was about to come. In 2020, we were able to play a few games before the rest of our season was taken away." 
It wasn't until Jan. 2021 that Heishman was fully reunited with her teammates, but still, COVID-19 immensely impacted her team and their mental health.
"It was difficult as a student-athlete to experience COVID because we were constantly facing so many uncertainties, and it was very nerve-racking. Moreover, when we were sent home because of COVID, a lot of student-athletes were dealing with mental health issues because it's very hard to motivate yourself to work out and to stay in shape when you are at home by yourself."
John Carroll Cross Country and Track & Field runner Jamie Dailey '22 opened up to The Carroll News about the battle he and his teammates have dealt with during the pandemic.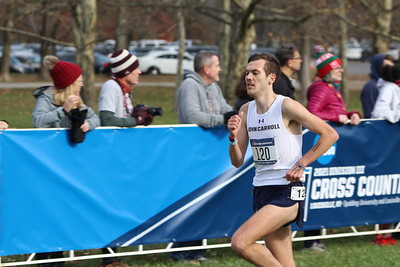 "For me personally, it stresses me to know that we are living amongst a pandemic. I'd say overall, it has taken a mental toll on all of us. As a student-athlete, it has become an obstacle because of the protocols and such," said Dailey. "I'm doing everything I can to stay healthy and be there for my team, no matter what. Right now, I'm just following a balanced routine that I can count on each and every week to prepare for any situation that comes my way." 
The COVID-19 restrictions that athletes have faced have led to unimaginable challenges for the average student-athlete. 
"Over the past few semesters, I'd say our team was definitely affected by the pandemic, both mentally and emotionally," admitted Dailey. "We've had to deal with meets being canceled, not having spectators, and most importantly, we had to deal with not seeing our team for a semester in the Fall of 2020. These challenges have been tough, but this is a resilient group that is able to withstand any challenge and I firmly believe that." 
Almost two years into the pandemic, athletes are still struggling with the aftermath of COVID-19 and the impact it has had on their play. 
"I think guys have had a lot of struggles dealing with Covid-19. . ." said John Carroll Baseball pitcher Garrett Siegel '22. "There are times everyone gets super stressed about it [COVID-19], especially on testing days before the vaccine came out." 
Many athletes including Siegel have experienced setbacks from COVID-19.
"You let your guard down during games or during the off-season, and that's when we got hurt," admitted Siegel. "A lot of guys, myself included, had their Christmas breaks affected by COVID-19 and those 10+ days unable to do much training still weigh on me because I can feel physically behind, and that's how you can get hurt."
From a coach's perspective, John Carroll University Men's Basketball Head Coach Pete Moran '08 understands the adversity that student-athletes at John Carroll University have faced.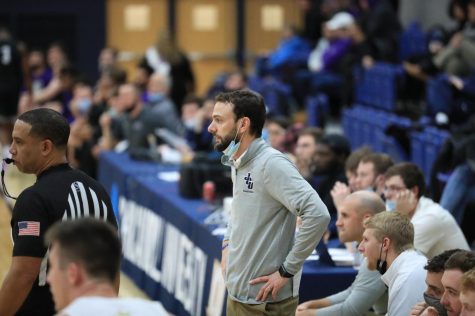 "Unfortunately, the pandemic has turned the world upside down in ways that would have been hard to imagine prior," expressed Moran. "As such, as resilient as we are as human beings, none of us were prepared for this. The health of our athletes (including mental health) has always been and will continue to be a top priority for our program."
Despite ongoing hardships, Heishman is working to end the stigma surrounding student athletes' mental health on campus.
Morgan's Message
In Sept. 2021, Heishman and Lainey Donalson '23 launched a chapter of Morgan's Message at John Carroll University.
"When we first started the Morgan's Message Club at JCU, we had one goal in mind: to spread awareness for mental health and to create a safe space for students," said Heishman.  
The national chapter of Morgan's Message was discovered after Morgan Rodgers, a student-athlete at Duke University, took her life in July 2019 after suffering from severe anxiety and mental health issues. 
Students like Heishman are working hard to honor Morgan's legacy and provide a platform for students at John Carroll University suffering from mental health problems. 
Very important message from the Morgan's Message chapter at @JohnCarrollU in Cleveland, Ohio 🦋

Always amazed to see athletes across the board, regardless of their sport, supporting one another and elevating mental health conversations.

Thank you, JCU! pic.twitter.com/Xxhfp70vWu

— Morgan's Message (@MorgansMessage) February 1, 2022
"Morgan's Message not only strives to eliminate the stigma surrounding mental health within the student-athlete community, but it also works to equalize the treatment of physical and mental health in athletics," noted Heishman. "Moreover, it aims to expand the dialogue on mental health by normalizing conversations, empowering those who suffer in silence, and supporting those who feel alone." 
Over the past few months, Heishman has led weekly meetings to discuss mental health topics. 
"When we talk about mental health, we provide our club members with the resources and skills in which they can not only help themselves but be able to help others as well," said Heishman. "We also are fortunate enough to work with the Wellness Center and the Counseling Center in which they provide us with the on-campus resources to use for whoever may be struggling.
Even though Morgan's Message works to eliminate the stigma surrounding mental health in student-athletes, Heishman has opened up her club to all students, whether they play a sport or not. 
Heishman emphasized the importance of that you never know what someone else may be going through. 
"A lot of people are struggling around you, but you would never know because society has created this stigma surrounding mental health that forces us to keep our mouths shut when we are going through some tough times. We teach the students how to notice these signs and symptoms of someone struggling with how to formulate a conversation with that individual to get them the help they need. Our club is extremely supportive and caring of one another and it has become like a family."
Putting an End to the Stigma and Seeking Help 
"Athletes are comfortable speaking up about their physical health with injuries and such, but there's a stigma surrounding mental health that if an individual speaks up about their mental health, they will be seen as weak," explained Heishman. "This is what we have to put an end to. We need to normalize conversations about mental health." 
Even though it may seem hard at first, reaching out for help is one of the most important things an individual can do when suffering from mental health problems. 
"The very first thing I would tell someone who is struggling with school and mental health issues is to find someone to talk to," said Heishman. "It is always important when dealing with any issues to be able to talk to someone, whether it's a friend, a family member, or a professional. It's not healthy to bottle all of your feelings inside because eventually, you will explode."
Those struggling with mental health issues may feel isolated, but Heishman ensured that this is not the case. 
"I know it's scary going through tough times like these," said Heishman. "But you are never alone even when you feel like you are. There are a lot of people out there that are willing to help you with whatever you need, even if they aren't a therapist. It's important that you know that you are not alone and it will get better."
Moving forward for student-athletes, seeking help should be their top priority. 
"It seems like the pandemic has affected everyone in a variety of ways, most of which have not been welcome," said Moran. "It's important for all of us to utilize the medical resources available to ensure we have the proper care and treatment plans to recover and move forward,"
If you are a student at John Carroll University and are experiencing mental health problems, students are encouraged to talk to someone they know or seek help from the JCU Counseling Center. 
The John Carroll University Counseling Center can be contacted by phone at 216-397-4283 or by email at [email protected]. 
Anna Meyer is a Senior at John Carroll University and is the Sports Editor of The Carroll News. She can be reached at [email protected] or @ByAnnaMeyer on Twitter.