JCU students interview for over 25 hours at WJCU studio, breaking world record
Two students at John Carroll University just broke the world record for the longest consecutive radio interview on WJCU's second channel. According to Cleveland.com, the previous record was set on November 9, 2021 by Bhanu Bhakta Niraula and Ang Phinjo Sherpa on Himal FM 90.2. However, with an interview beginning on Feb. 5 at 7 a.m. and lasting 25 and a half hours, JCU students Zachary Sinutko '24 and Collin Kennedy '24 now hold the record. 
During the week, Sinutko and Kennedy host the hip-hop radio show 808s and Mixtapes on WJCU 88.7 where they discuss hot tracks in the rap scene and interview both up and coming and already noted hip-hop artists. On Nov. 30, Sinutko allowed The Carroll News to sit in on a live taping of the show where he interviewed multiple artists including many from NVASION studios, a new record label in Ohio. Throughout the night, Sinutko not only asked questions to the artists in the room but also featured popular segments such as "The Michael Jackson Song of the Night " and "Girl Talk" which serves impromptu relationship advice. Sinutko has talked with individuals like OMI, Dax, Neil DeGrasse Tyson and local JCU artists like swayyyfather.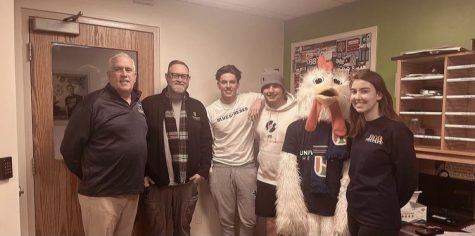 While the show only first premiered in August 2021, it is already making big waves with not only well-known guests but now with its hosts achieving a world record.
"I have no doubt in my mind that we can achieve the unachievable. Two college students plus a ton of energy drinks and a passion for college radio equals countless possibilities. This will be easy if you ask me," Sinutko stated in a press release before the record was broken.
"Me and Zachary Sinutko are unstoppable when we put our minds to something, and this Guinness World Record will be no different if you ask me," Kennedy continued in the same announcement. 
The two were allowed a five minute break every hour that they could choose to either cash or collect for use in a longer break later. Guests and companies brought them food and supplies for their stake out such as energy drinks, pastries and cough drops. Tracey Masterson, professor in the psychology department, brought them Subway sandwiches and an inspirational sign her children made.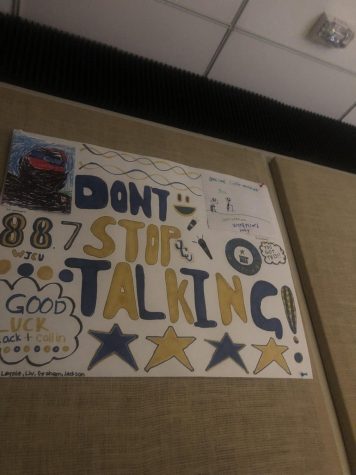 During the attempt, Sinutko and Kennedy used one of their breaks to chat with University Heights Mayor Michael Dylan Brennan as well as a representative from President Al Miciak's office. Besides these noteworthy guests, Sinutko and Kennedy held a free flowing conversation between one another while two witnesses mandated by the Guiness Book of World Records observed at all times. The record was officially broken at 8:27 am on Feb. 6, but Kennedy and Sinutko carried out their promise of breaking the title by an extra nine minutes. Questions Sinutko asked to Kennedy include those about family, his hobbies, his career and his new album titled Mixed Feelings which is currently on Apple Music. After many hours some of the topics of conversation began to take on a surreal quality. One of the more bizarre questions Sinutko asked Kennedy was "why we giving these porcupines guns?"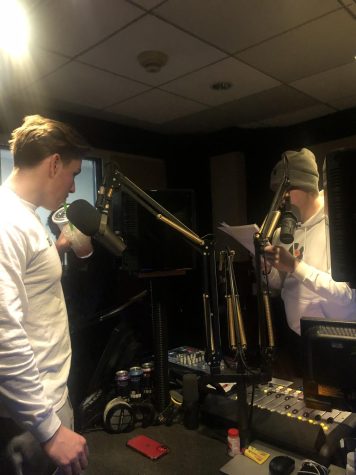 "Hot diggity dog," Sinutko told The Carroll News when he broke the record, mentioning that was what he wanted his first worlds to be after achieving the title. "It's like what they said when they landed on the moon, what did they say? To infinity and beyond?"
Kennedy followed by saying "good job, see you all tomorrow."
"Bank robberies and porcupines," Aliyah Shamatta '24, a witness to part of the record breaking, summarized the event.
Multiple news outlets interviewed the DJs before and during their attempt giving their show and studio new publicity. Both Sinutko and Kennedy hope that the new record will bring more attention to not only 808s and Mixtapes but WJCU 88.7 as a whole. 
"I couldn't be prouder of Zach, Collin, and their team," station director, Jasen Sokol, told The Carroll News. "The work they put in ahead of time to organize everything that needed to happen and the endurance to make it through 25+ hours is amazing. Not only was it a record-breaking interview, but it was also fun to listen to. We're lucky to have them as a part of WJCU."