Wenzler's legacy lives on: Mike Scanlan's special tribute to his mentor
Mike Scanlan '06, the current Assistant Vice President of Marketing and Communications at John Carroll University, plans to participate in the Buffalo Marathon on May 29, 2022. Unlike other marathon runners, Scanlan runs for a cause near and dear to his heart.
Scanlan attended John Carroll University himself, graduating with a degree in Communications in 2006. Like many other aspiring professionals, Scanlan was involved on-campus to gain experience and build his resume. He sat in the newsroom creating stories for this newspaper, a full-circle moment representing the longevity of student engagement and journalism. 
He also devoted his time toward the Sports Information Department at John Carroll, working under the supervision of the late and highly respected Chris Wenzler '90. 
Later in his professional career, Scanlan returned to his alma mater, John Carroll. As Scanlan recounted, Wenzler was still leading the Sports Information department, but this time, with the addition of an undeniable burden.
"When I returned to John Carroll in 2019 as an employee, Chris was in the mindset of his battle with multiple myeloma," said Scanlan. "His ability to handle a grueling workload, continue to mentor his student workers, and manage the daily suffering that cancer dealt him was a lesson in perseverance."
In summarizing his time with Wenlzer, Scanlan values the journey of companionship.
"My relationship with Chris evolved over 15 years," Scanlan reflected. "He started as my mentor in 2005, almost immediately became my friend and advocate, and ultimately became my colleague and confidant at John Carroll."
Scanlan is devoting his marathon endeavors to Wenzler. In conjunction with his marathon pursuit, Scanlan wants to raise funds for blood cancer research, with the help of the "Wenzler's Warriors, the community of supporters that stood with Chris throughout his two year battle with multiple myeloma.
Wenzler built the foundation of the John Carroll Sports Information Department, which is a portion of the reason why his passing was utterly devastating for all the people who he mentored, led and motivated to grow.
"Chris Wenzler helped me to believe in myself during that critical transition from student to professional," Scanlan mentioned. "He also taught me the power of vulnerability."
"The way the Wenzler's Warriors rallied around his family is really a testament to the way he treated people."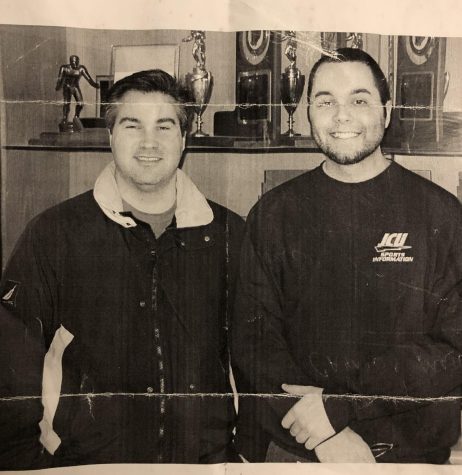 Before Wenzler passed, Scanlan decided to immerse himself in a strenuous marathon training regimen, while simultaneously organizing a "GoFundMe" in which all collected donations went toward offsetting Wenzler's medical bills. 
Scanlan planned to run in 2020 in support of his mentor and friend, but was disheartened to hear of the Buffalo marathon being canceled that year. But, in "Wenzler Warrior " fashion, Scanlan created his own race, coined as "Wenzlerthon". The route began at Wenlzer's house in University Heights and ended at Scanlan's own home in Bay Village.
Donations came to a grand total of $29,292 in support of Wenzler. 
Scanlan finished this self-paced race and embraced his long-time friend and mentor at the finish line, one of the last times Scanlan was able to hug the person that was a pivotal part of his life.
"Chris posted to Facebook after Wenzlerthon: 'Hopefully next May, Mike and I can run in Buffalo. Together.'" said Scanlan. "A month later, Chris was gone."
"The whole experience – followed so quickly by his death – changed me as a person."
"After almost two years of reflection, I'm grateful that we all got to tell him how we felt about him through Wenzlerthon."
Scanlan remains dedicated to Wenzler's legacy. His support for "Wenzler's Warriors"  reigns supreme, with a focus on the well-being of the Wenzler family, including his wife, Melissa, daughter, Madeline, and son, Oliver. 
Part of that extension of support and tribute toward Wenzler's family is through the completion of another marathon, this time in Buffalo as planned. 
Scanlan was quick to mention that he works with a community of "Wenzler's Warriors" that are just as devoted as he is.
"So many people are helping me," Scanlan assured. "Some of the most passionate people include Coach Dejan Mladenovic, Michael Adelman '21 and the entire JCU Men's Soccer Team, Sports Information Director Joe Ginley, and Chris' wife, the amazing Melissa Wenlzer who works as an Enrollment Management."
Just like two years ago, Scanlan's marathon journey pays respects to Wenzler's admirable fight.
"I'm partnering with the Leukemia and Lymphoma Society's Man of the Year campaign and running the 2022 Buffalo Marathon with a goal of raising $50,000 to fund a blood cancer research grant in Chris'name."
Scanlan revealed that the goal of fundraising is exceptional, but being able to continue the legacy of Wenzler also helps Scanlan maintain his connection with the man that had such a significant influence on his life.
"I feel uniquely positioned to carry on the legacy of a man that thousands of people admired. Running and fundraising in Chris' memory is the closest thing I can find to being around him." 
"I do think about him a lot when I run, especially when I'm pushing my body or feeling sorry for myself."
"Every time I ask people to support my effort with donations or with their time, I feel like I'm connecting them to his legacy."
Scanlan, with a professional career undeniably sculpted by the efforts of Wenzler, delivered Wenzler's eulogy. Scanlan reflected on the life of Wenzler, emphasizing his commitment, positivity, love and leadership. 
In emphasizing Wenzler's legacy, Scanlan reiterated, "One of the SID alums reminded me about Chris' view on what separates DIII athletics from bigger schools and professional sports. Wenz affectionately called it the 'give a s— factor.' At bigger places, it may just be a job. Here, we genuinely care about what we do because every task, every game, every athlete, coach, parent, and supporter matters."
Wenzler's legacy, beyond his specific career of sports information, offers an uplifting message to all people: Put passion toward life, see the potential in others, and continue the relentless pursuit of happiness. That's why Scanlan runs for Wenzler.