John Carroll University celebrating 100 years of Athletics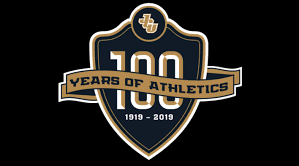 Walking through campus, one may notice the varying banners blowing in the wind from the light posts. Those banners each tell a story, 100 years worth of stories actually, as the Blue Streaks are celebrating 100 years of athletics.
Over the last century, John Carroll University's athletics program has evolved remarkably. From women being allowed to play sports in 1973 to football no longer being the main attraction anymore, sports at Carroll have been able to transform and grow with the years, allowing something for everyone. 
In 1969, John Carroll became a coeducational school. A few years later, JCU made sports available to women. With this came the spark of competition between men and women. It was not going to be a male-dominant world anymore. 
In the 1920s, when John Carroll was strictly a men's school, football and basketball were the top two sports. Since then, the rules of basketball nationwide, for example, have changed in addition to JCU's programs.
"The (NCAA) has done things in the game to encourage athleticism — the shot clock, the three point-line. When they opened up scoring, it really changed how the game was played,"  John Carroll University sports information director Chris Wenzler told The Carroll News. "Games in the 1920s, '30s, and '40s were so low scoring. Now, look at the scores."
John Carroll had the opportunity to try to go big time with at least one of its athletic programs, or example, potentially making one sport Division I like some schools do in the Big East for basketball.
But according to Wenzler, Carroll added women's sports and focused on sports like soccer, baseball, and lacrosse to add depth to the university instead of trying to have a big name. 
In this coming 100 years, athletics will continue to change. Sports like soccer and lacrosse will likely gain more traction because of their popularity. Football could change, especially with the way the industry handles concussions. When the next athletic anniversary rolls around, John Carroll athletics will probably look just as different yet again.