Life After JCU — Ryan Bringger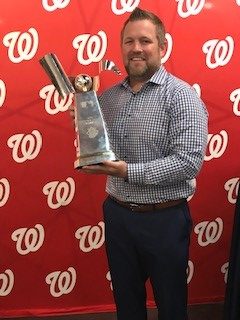 The sports industry is constantly changing and evolving. In order to succeed, you must be able to adapt and learn. That's what Ryan Bringger's story is all about. 
A John Carroll alumni of the 2001 class, Bringger has not only worked in different professional sports leagues, but he has also earned various titles as he moved his way into the position of Vice President of Ticket Sales and Membership Services for the Washington Nationals. 
Bringger grew up in Fort Lauderdale, FL, but somehow found his way to Cleveland, OH, attending John Carroll University in the fall of 1997.
"John Carroll's Wrestling team used to wrestle at my high school in a tournament around Christmas time," Bringger told The Carroll News. "One of our football players from my high school ended up going to John Carroll and I heard about him going. I really wanted to play football. I mean, it came down to wanting to play football. I was an offensive lineman, but wasn't big enough for Division I or Division II, so I started looking at John Carroll. Next thing I knew, my family drove me up to Cleveland for the first day of football camp. I had never seen the school, I just watched like a little 10 minute video that they had back in the day. My parents dropped me off and I had football practice the next morning."
Bringger majored in communications throughout his time as a Blue Streak as he played on the football team and began to make an impact on the small campus. 
"I really enjoyed the small atmosphere. The size of the classes was important to me. I probably didn't know it when I made the decision to go there, but once I was there, I realized it was like my high school. I really thrived in that atmosphere. I was able to have relationships with my professors, with the Jesuits, which was important to me because I'm very outgoing, talkative and I was able to have that one on one relationship, which you couldn't get if you went to the University of Florida for example."
After graduating, Bringger was able to move back down to Florida where he started working for the Tampa Bay Lightning in Sales. 
"I've always loved sports, but hockey was probably my least favorite, just because I was from Florida. I didn't know a ton about it, but during the interview, I got to go enjoy the game which was cool. One of my favorite stories is that there was a couple that sat behind me during the game and we struck up a conversation because they were asking me why I was dressed up in a suit. One thing led to another and I realized they were season ticket holders from the past. I said 'listen, here's what I'm gonna ask from you, if I get this position, I want you to be my first sale and I want you to come back and be season ticket owners.' They said that if I got the job they would buy season tickets, so I gave them my info and I took their info. My second day on the job they bought season tickets because they promised me that they would so that was a cool moment for me. It made me realize that I could do this, like I can do this career."
Bringger worked for the Lightning for two years, moving his way up from Inside Sales to Group Sales to an Account Executive Position to Senior Sales, but then the front office for the Lightning decided to move to the Florida Panthers Hockey Club and asked him to go with them to start his management career. 
He became an Inside Sales Manager with the Panthers and was there for seven years but then returned to the Lightning for another seven years as their Senior Director overseeing all Sales and Service.
Then came a crazy sport and weather transition. Bringger went from living in sunny Florida working in major and minor league hockey to temperate Washington, D.C. working for the Washington Nationals in Major League Baseball. 
"I wasn't looking for a change. My family was all from Florida. I have three kids and they and my wife had never been out of Florida. But, a recruiter had reached out and said they had an opportunity. I was really excited to obviously reach the next level in my career and it was a much larger market. I love baseball too. The Nationals were looking for more culture, they wanted somebody to really lead a team, a large team, and create a culture where people wanted to come to work every day. The team was pretty solid on the field. It was a great opportunity."
When asked if it was a difficult transition between hockey and baseball, Bringger explained it wasn't the work hours or events that was the struggle, it was the rain. 
"The rain in baseball is a real thing. So when games go into delay and then they are postponed and we're still dealing with two games that we had to make up this year, we have to give vouchers to people. There was really bad weather last weekend and it caused that type of problem. Rain is not a problem in hockey."
Bringger made the move to the Nationals in 2017 as the Vice President of Ticket Sales and Membership Services as he expanded on skills he learned early on in his career. 
"On the service side, I oversee all of our retention efforts; all of our premium and season plan holders, retention strategies, and then also all of our new business. Also, all of our new business strategies, acquiring new customers each and every year, for all of our packages and also group sales. Baseball is a huge group sales business. For example, all of our theme nights, all of our traditional groups, all of our business groups, we have that entire piece as well. And then I oversee our ticket operations, our operations, our box office, etc."
Even with this abundance of experience within the professional sports world, Bringger still relates some of the key skills he picked up to his time at John Carroll.
"I learned how to be gritty, to be able to grind through the hard stuff. You look at a lot of the programs that are like religion at JCU and I remember looking at it and thinking, do I really have to take religion every year? But because I learned to be gritty it was like, hey, you're going to have this for four years so let's dive in, let's be positive about it and then success would come from there. And like I said earlier, I learned how to communicate really well. I would always take the opportunity to meet one on one with my professors, to have meetings outside of the class before or after just to check in on how I am doing or asking for help if I needed it. I even did that on the football field: ask a lot of questions. I always tell my staff at the Nationals that you have to be involved and you have to ask questions so you continue to learn everyday."
When Bringger was first getting started in the sports world, the infamous John Carroll connection was being created, but he still recognized the significance of graduating as a Blue Streak. 
"Having John Carroll on your resume is super important and to be an athlete as well. Not only do they look at somebody that was gritty and was able to get through a school that has a really strong educational background, but then to also have five years playing on a Division III football team was huge. So I look for that now and when we hire, if we can find athletes that have that competitiveness and grit it's an easy decision, especially from a great institution educationally."
Bringger touched on how many of his lifelong friends are from John Carroll and how he constantly keeps in touch with individuals from his Blue and Gold days. 
"John Carroll is all about connections. Even when I lived in Tampa and was working for the Lightning there was a John Carroll alumni chapter and once a month we would go to different restaurants. It was pretty cool because I was one of the youngest guys there by far, but it was great to sit down and have lunch with individuals who were all living in Tampa and had a similar background through John Carroll." 
John Carroll's impact on Bringger was apparent as he expressed great advice on how to break into the sports world as an undergraduate starting to move forward into a career. 
"Get your foot in the door. It sounds so simple, but seriously, get your foot in the door. Don't have a mindset that you have to be in a certain department or a certain role. I didn't know that I wanted to do sales, I had never sold anything in my life, but I enjoy talking to people and I am outgoing. But once you get in, get competitive. Just by asking questions and showing that you care and that you're learning something new every day, will put you in great shape. People want those types of employees working in their department. And celebrate the wins. If you focus on the 90% of your day that you get hung up on, it'll be a tough career, but if you celebrate the wins you're like, hey, I can do this."
His most important note to students or any individual trying to work in professional sports is to reach out to alumni. 
"We're hiring all the time. I literally have positions available right now within our service team and within our sales team. I would love to hire John Carroll students, so I think it's really important that students reach out and that they understand who is involved in what areas of the country. From a sports industry standpoint, make sure that you're reaching out to people that you know can help you in that path. Make sure you use your alumni and your network."
Grit. Determination. Adaptability. Networking. All common themes among the Life After JCU interviewees that are sure to continue for generations to come.