JCU Track and Field teams come as runner up at OAC Indoor Championship meet
The Men's and Women's Track and Field teams fared well last weekend at the Ohio Athletic Conference Indoor Championships as both squads finalized a second place finish against strong conference opponents. 
"Second place is always a hard spot to be in," said Genevieve Arnold '24. "There are feelings that you could've done more but I'm so proud of how my team competed this year. We ran our hearts out and really showed up to compete. I'm very excited to see what we can do this outdoor season coming off a strong showing at OAC."
Day 1
The Men's team had success the first day of the championship meet as records were broken and first place finishes were stolen. 
Basheer Alramahi '26, also a John Carroll Men's Soccer player, won the 400m race with a time of 48.84, setting a facility record early on for the Blue Streaks. 
The Blue and Gold also took first in the Distance Medley Relay as Ethan Domitrovich '24, Garrett Clark (graduate student), Caleb Correia '24 and Alex Phillip '23 broke a 16 year OAC Indoor Championship record with a time of 9:53.41. This record was previously set by Mount Union with JCU's Head Coach Kyle Basista being a part of that relay. 
On the Women's side, more personal successes were had. 
Arnold competed in the long jump and recorded a mark of 5.50m to earn her a second place finish in the OAC. This is her first All-OAC performance in indoor track in her career. 
In the 5000m, Erica Esper '23 earned her first All-OAC award with her third place finish with a time of 18:09.71. 
The Distance Medley Relay of Katy Fellenstein '23, Morgan Dobos '26, Sydney Wingler '26 and Abby Schroff '26 took third with a 12:26.51 mark as they also earned All-OAC honors. 
Day 2
Phillip continued the record breaking starting in day two as he broke 46-year-old records in the mile and 3000m. His amazing performances recorded throughout the championship meet earned him the title of Most Outstanding Distance Athlete at the end of the event. 
In the 200m, Clark earned first place and set the OAC record with his time of 21.65. He was awarded Don Frail Most Outstanding Sprint Athlete of the meet.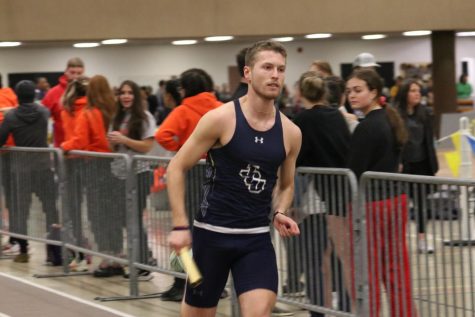 "Earning the Most Outstanding Sprinter award showed me that all my hard work is paying off," said Clark. "I try the best I can to contribute to the team's success and this honor is very rewarding. I know my success isn't possible without great coaching and working with other JCU runners to push each other."
For the Women's team, Claire Eberhardt '24 earned a championship award for the 1000m with a time of 3:02.68.
Arnold finished in second for the triple jump (10.96m) with Tori Miller '24 coming in right behind with her jump of 10.53.
"I'm so excited to have performed the way I did at OACs," said Arnold. "Seeing it all come together was an amazing feeling. I feel so rewarded to have been able to compete and cheer on my teammates this past weekend. There are so many moments of watching my friends compete where I remember screaming my head off in excitement. A warmth in my heart is filled from this past weekend with my team that I can not begin to describe."
The teams will travel to Ada, OH on Fri., March 3 to compete in the Polar Bear Final Qualifier before heading to the NCAA DIII Indoor National Championship from March 10-11. 
"We used the OAC meet as an opportunity to gain experience before nationals," finished Clark. "We are very proud of our second place finish, but the focus is on the national meet in Alabama. Next steps are to continue what we have been doing. Trusting our training and coaching. If we continue on the path we are on, I think our team will find success at nationals."