JCU Softball will keep eyes forward after trip in OAC competition this weekend
A narrow loss only constitutes one action: moving forward. Eyes on the future is what reigns supreme for John Carroll Softball.
Over the weekend, the Blue Streaks traveled to Marietta for a double-header against a sound group of Pioneers. In the two-game stint, Marietta overcame John Carroll by scores of 5-3 and 6-2.
Game 1
The Pioneers controlled the initial innings of the game, making a comeback difficult for the Blue and Gold. Up until the sixth inning, John Carroll struggled to even get contact with the ball off some heaters of pitches from the Pioneers.
The offensive lull was supplemented with Marietta's offensive push. The Pioneers tallied 5-0 until Elaina Rodriguez '26 was the first to get solid contact off a pitch. 
Rodriguez broke the ice for John Carroll, giving Alyssia Carmichael '23 some confidence when she assumed her spot at bat. Carmichael, Kaylyn Odelli '25, Melissa Smith '26, Nina Scavelli '25, Serena Paterno '24 and Lexie Genovese '25 all did some combination work to give John Carroll some pivotal scores.
A comeback was certainly in the works, but it seemed as if the Pioneers were prepared to hold on. Rodriguez and Kendall Trunzo '25 worked to gain some footing on base, but there wasn't enough momentum to carry through the final inning. 
However, the composure and drive that possessed John Carroll in the final innings was seen in the second game of the afternoon, edging closer to what seemed like a potential victory.
Game 2
In a similar fashion, the Pioneers earned an early lead, forcing the Blue Steaks to plan out an impressive comeback. In the third inning, Marietta earned a 4-0 lead off a grand slam, leaving the Blue Streaks speechless on the field and in the dugout.
But in a triumphant manner, John Carroll seemed to make victory possible.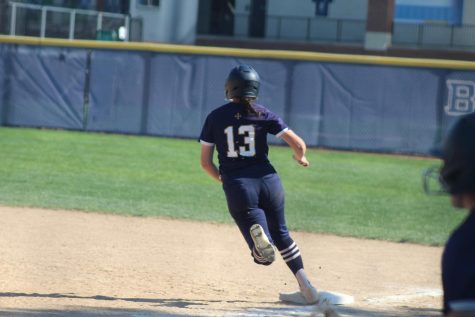 In the fifth inning, Bella Carcioppolo '26 completed a wild tour on the bases, scoring on a stolen base. Odelli also got on base and proceeded to steal second, her own tour ending in a trip to home plate.
But that would be the only glimpse of hope for the Blue and Gold, as their offense and defense began to lose momentum in the final innings.
After an RBI double, Marietta secured a home sweep against John Carroll, quieting the Blue Steaks as they boarded the bus back to University Heights.
Lucky for John Carroll, there is a quick turnaround between games, allowing the Blue and Gold to redeem themselves.
On Thurs., April 7 John Carroll heads to Penn State Behrend for a double header starting at 3:30 p.m, The second game is set to commence at 5:30 p.m.