Podcasts have been on the rise in popularity amongst all social media platforms, as they enrich a new age of audio storytelling. They offer a way for people to express themselves and connect with their audiences on a more personal level. Whether you crave quick-witted banter, playful comedy or different social insights, there are shows tailored to your humor and are available. In this piece, I have come up with a selection of top-tier comedy podcasts that are guaranteed to evoke some form of laughter and brighten up your day. 
1. "The Basement Yard"     
You may have seen clips on Tiktok or other social media platforms about them, but up first is "The Basement Yard." This podcast is hosted by  dynamic duo Joe Santagato and Frankie Alvarez. Santagato and Alvarez share personal stories, fun yet clever quips and discuss a wide range of topics, such as pop culture or daily thought-provoking dilemmas. They are known for their unfiltered and humorous takes on the world. "The Basement Yard" offers listeners a hangout filled with laughter, relatability and a quick glimpse of realness into the lives of its hosts. It's a podcast that feels like catching up with friends in the basement of your own home, which makes it a lighthearted and fun escape from daily life. 
2. "Zane and Heath: Unfiltered"
"Zane and Heath: Unfiltered" is brought to you by the infamous duo of internet personalities Zane Hijazi and Heath Hussar, well known from their Vine and YouTube careers. With their perfect blend of crazy stories, spontaneous adventures and unfiltered conversations, the pair offers listeners a hilarious and relatable glimpse into their world. 
Their genuine friendship and real approach to deliver the best for their listeners makes the show feel like a kickback with friends. Each episode brings new perspectives, new interviewees and new stories of what their lives were like before and after fame. 
3. "Smartless"
The "Smartless" podcast, hosted by famous actors Jason Bateman, Sean Hayes and Will Arnett, offers a fun twist on how celebrities typically get interviewed. What makes this podcast different from the rest is that each episode has one of the hosts surprising the others with a mystery guest. Within the interviews, the hosts uniquely ask their guests fun questions while simultaneously making sure they hit personal topics. Never knowing who the mystery guest is and having to interview on the spot leaves room for entertaining discussions that have listeners wanting more.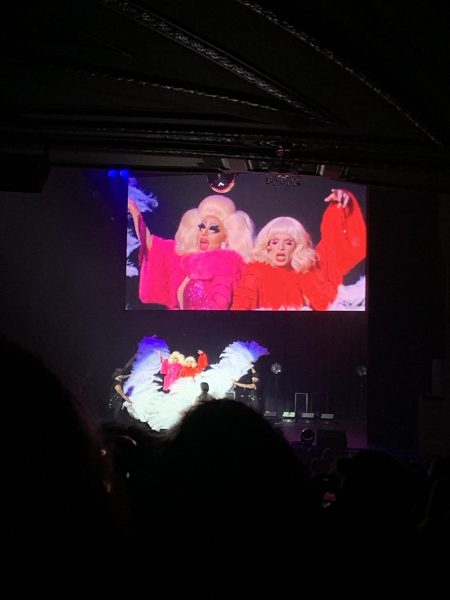 4. "The Bald and The Beautiful"
"The Bald and the Beautiful" is a popular podcast hosted by the queens of drag themselves:  Trixie Mattel and Katya Zamolodchikova. Originally starting off as a beauty show, a quick bump and a couple of turns later they have given us utter chaotic and unfiltered conversations that leave you in awe. With a mix of pop culture opinions and piping hot tea, they explore what life is like in the view of fashion, beauty and the world of drag. From doing transformations during the show, the duo does not shy away from hard hitting conversations while still maintaining the humoristic aspect of the world in their point of view. Their unique storytelling is sure to keep you laughing and engaged with what chaos is going on in the hour long show. 
5. "Comedy Bang! Bang!"
"Comedy Bang! Bang!" is hosted by comedian and actor Scott Aukerman. With its unique interviews, storytelling and improv games, the show is sure to have you falling out of your seat from laughter. Known for its natural and unpredictable humor, the show features a variety of talented comedians and celebrity guests who engage in the chaotic activities this show has to offer. Not only does this show bring the laughs, it's full of satire, games and spontaneous activities. Recommended by many, this podcast has the ability to take you on a wild ride of comedic relief with a great dose of laughter. 
In a world that often feels divided and chaotic, comedy podcasts have seemed to be coming out on top to remind us all to find the humor in havoc. As we've explored the laughter-filled landscape of these podcasts, we've uncovered a diverse variety of voices, perspectives and styles, each contributing to the comedy genre. So, whether you're tuning in for a daily dose of humor during your commute or seeking comfort in laughter during challenging times, comedy podcasts are here to make sure you know that you can always take a second for a good laugh.