Taylor Swift has been hard at work, releasing re-record after re-record. So far, Swift has taken back three of her six stolen albums: "Fearless," "Red," and "Speak Now." Despite these albums having record-breaking success, when she announced the release of "1989 (Taylor's Version)," she described it as her 'most FAVORITE re-record.'"
These vault tracks are usually talked about in faint whispers and vivid speculation until they're released. It's all very hush-hush, but still somehow the talk of the town, which Swift cleverly took advantage of with "1989". She took the words "vault tracks" literally, creating a game for Swifties to decode these tracks for themselves. 
If you Googled Swift's name, a blue vault appeared in the bottom right corner. When clicked, Swifties were prompted with an easter egg or puzzle that they would be able to decode to get an answer. For example, there was one puzzle with the clue "She wasn't doing anything," addressing a situation between Swift and a security guard at one of her shows. The answer was her song "Bad Blood," which was then entered into the search bar. Upon guessing the correct answer, you would get a pop-up on the bottom right, saying you've completed a puzzle. There were 89 puzzles a person could solve (for obvious reasons, right?), and once 33 million puzzles were collectively solved, Swift would reveal the vault tracks. 
Swifties jumped at the game, causing it to crash shortly after its release. Google Tweeted, never skimping on the corporate cringe, "Swifties, the vault is jammed! But don't worry, there are no blank spaces inside. We're in our fix-it era and will be out of the woods soon." According to an article from BroBible, Taylor Swift quickly became the most Googled person in Sept. 2023… and people say she's not a business woman. 
Our resident JCU Swifties also had a lot to say about Swift's latest power move. 
"I liked it! It had a lot of easter eggs that only Swifties who really knew a lot about Taylor would now. But it was very glitchy," said Kat Cannata '25.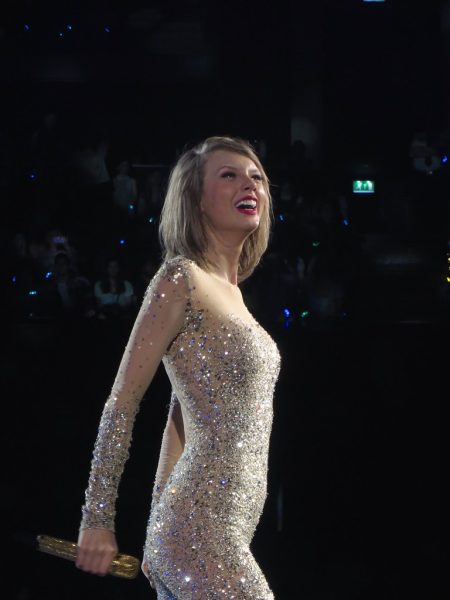 The organization's social media/marketing officer, Sandy Messiha '25 said, "I unfortunately didn't take the puzzle, but based on the tidbits I saw on Instagram, I agree with what Kat said! It was very cute and had a lot of little Swiftie inside jokes that were fun!"
New member Riley Higgins '27 also said, "I thought it was brilliant the way she took a platform that can be considered scary and dangerous for an artist (Google) and made it into a game. It can be a nerve wracking thing for pop stars to Google themselves and see everything the media has ever thought about them, but she will probably end up being the most Googled person in 2023 because of these puzzles." 
She continued saying, "I have always loved vault tracks because we get a more complete story and a bigger picture of her life in that particular era! She wrote 'Blank Space' with the hate people were giving her about 'serial dating' and it was a hit for months. I'm sure that's exactly what ''S***!'' is about too, so I can't wait to see her feelings about those remarks in another song! I think it's going to be so much more aggressive than 'Blank Space' too since it's a song that she felt like she couldn't release at that time!"
Swifties worldwide powered through one glitchy day and one up "Till Dawn" kind of night and 33 million puzzles were solved in under 24 hours. Google tweeted, "Swifties, we made it out of the woods! Bridges built, codes cracked. Vault, opened." With that message, Swift revealed all of the vault tracks for "1989 (TV)" on Sept. 20 with an audio message on Google:
"Is It Over Now?"

"Now That We Don't Talk"

"Say Don't Go"

"Suburban Legends"

"'S***!'"
If that wasn't enough, she is also rereleasing her song "Sweeter than Fiction" as a Tangerine Vinyl exclusive.
Swift tweeted after the release, "It's a new soundtrack… I can't wait for this one to be out, seriously. Thank you for playing along, sleuthing, puzzling and making these reveals so much chaotic fun (which is the best kind of fun, after all)."