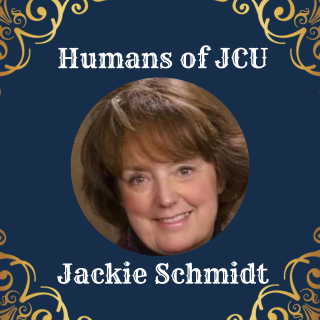 John Carroll University has retained prestigious professors from as early as the 1960s. Starting in 1973, Dr. Jacqueline Schmidt is one of the longest-serving professors at JCU. Dr. Schmidt exemplifies John Carroll University's yearn for excellence, teaching part-time after retirement and contributing to years of research, scholarship and various emerging programs.
Schmidt was hired by the Tim Russert Department of Communication, formerly known as the Department of Communication and Theatre Arts. While Schmidt specializes in interpersonal communication, she has taught "a whole arrangement of courses," from entrepreneurship to communication.
"Currently, I teach a linked course with Dr. [Peter] Kvidera and Interpersonal Communication with American Literature. They read the stories and books in American Literature and we talk about the communication aspects because, to be a really good novelist, you have to understand how people function," Schmidt said. She looks forward to teaching a course in relationship selling in the spring 2024 semester.
In addition to teaching, Schmidt worked in administration, serving as the former Chair of Communication and Theatre Arts from 1984 to 1999. Afterwards, she worked as project and program managers in the College of Arts and Sciences and was the Interim Director and Director of the entrepreneurship minor in the Boler College of Business. From 2012 to 2022, she received the Distinguished Faculty Award from JCU for teaching. In 2014, she received the award for research and service. This year, she celebrates her 50th anniversary teaching at John Carroll University.
Schmidt grew up in Austin, Minn. where she attended Austin High School and earned her B.A. at Macalester College in St. Paul. Before teaching at JCU, Schmidt earned her M.A. and Ph.D. at the University of Iowa's Department of Communication Studies. During graduate school, she taught seventh and eighth grade in Colorado, completing her Ph.D. in 1974.
She remembers her first teaching experience at south St. Paul high school in Minnesota, directing high school level theater as a student teacher. "I did debate and speech and I did some theater things because that was all a part of it. And then when I went to Macalester, Macalester had a really strong theater program. But I was on the speech and debate side of it," Dr. Schmidt said.
When the discussion focused on the community of John Carroll, Schmidt said, "I think that's one of the things that I've loved most about John Carroll. Not only the students because I find students very interesting and I love getting their ideas and learning from them, but my colleagues, faculty, administration and staff have been wonderful to work with."
One of Schmidt's first duties upon arriving at John Carroll was advising WJCU from 1975 to 1985. Also, Schmidt has participated in departmental projects at John Carroll, assisting the initial establishment of the entrepreneurship program in the Boler College of Business.
"I was able to work with people from the School of Business at that point, now the College of Business, developing entrepreneurship and doing some interdisciplinary kind of connections."
Presently, Schmidt is the advisor to John Carroll's chapter of Lambda Pi Eta, the National Communication Association's honorary society. She was involved in faculty government and the Russian Communication Association, traveling to Russia five times during her tenure at JCU.
Dr. Joseph Miller, Chair of the Communications Department at the time of her hiring in 1972, explained why Schmidt was the right fit for a position in the department.
"There were no women in the department, which I saw, and so did the department, as a disadvantage. We indicated to the university that we felt that, because we knew that communication would appeal to women, that we should have a woman faculty member to demonstrate competency and presence."
Miller recalled the circumstances surrounding Schmidt's hiring. "She came from what we knew was one of the leading institutions in that area. And it also had a very strong reputation in rhetoric and public address. She was nationally recognized for her work… so she was the right person."
Miller went on to describe Schmidt as "an extraordinarily gracious, thoughtful and kind person. She has standards that she expects the men and women in the class to meet. But those standards are reasonable, flexible and adaptable." Dr. Brent Brossmann, current Chair of the Communication Department, shares similar thoughts about Schmidt's teaching style. "I believe in many ways that she is an old-school professor. She has strict standards but she is also extremely supportive of her students. Her goal is never to lower her standards but to help elevate her students."
Brossmann himself was hired by Schmidt in 1993. "My very first introduction to John Carroll was in Chicago in an interview process when I was out looking for jobs and she was representing John Carroll. We hit it off immediately."
Brossmann calls Schmidt a "humanitarian," explaining the bond the department maintains even outside of work hours. "On Friday afternoons after a week of classes, a number of faculty members would go down to Buffalo Wild Wings and play trivia games. We would show up with our spouses. Between the various interests that we have as professors and where our spouses could chime in, we were pretty much an unbeatable team."
Schmidt foresees her future at John Carroll as nowhere near ending. "I will probably always want to teach a class. If I can help out in any way, I am more than willing to help out with research. I like where the university is going. That part I have retired from, but I still love teaching and being around and seeing people. It's fun to see colleagues and connect with them when I come back on campus."
After 50 years, Schmidt continues to stamp her legacy at the university. The JCU community is grateful for all that Dr. Schmidt has developed and offered during her time at John Carroll University.