NFL celebrates 100th birthday with a Browns win in the battle of Ohio
It was the clash of the first-round draft picks as Baker Mayfield of the Cleveland Browns and Joe Burrow of the Cincinnati Bengals faced off on Thursday, Sept.17 in Cleveland, Ohio.
Mayfield outdueled Burrow by a score of 35-30, and Cleveland claimed its first win of the year. 
Limited fan attendance provided a boost for both of these teams, as it allowed for a sense of normalcy in these unpredictable times. 
This Thursday night game also signified a momentous occasion for the National Football League, which celebrated its 100th birthday with this game.
Burrow started the game with the ball on the 39-yard line and finished his drive with a field goal. Mayfield recovered quickly, using only 10 plays to score a touchdown. 
The Browns defense continued to apply pressure to Burrow, as Sheldon Richardson sacked the young quarterback on the Bengals' second possession of the game, which ended in a punt.
Mayfield took over quickly, launching the ball 43 yards down-field to star receiver Odell Beckham Jr. for a score. The Browns then went ahead 14-3. 
This angle of Baker's TD pass to OBJ is incredible 👀 @bakermayfield @obj @Browns pic.twitter.com/YSvmwmqlZC

— The Checkdown (@thecheckdown) September 18, 2020
Burrow did not get discouraged easily and ended his next drive with a 23-yard touchdown toss to Bengals tight end, C.J. Uzomah. 
Kareem Hunt scored another touchdown for Cleveland, while the Bengals answered with another field goal to end the first half with the Browns leading 21-13.
Cincinnati struggled at the beginning of the third quarter when a sack by Browns pass rusher Myles Garrett led to a fumble that was recovered at the Cincinnati one-yard line. Nick Chubb finished this conversion with a running touchdown. 
Despite the costly turnover, the Bengals didn't give up. Cincy's next possession ended in a field goal, and not too soon after, their defense intercepted Mayfield's pass, converting this into a short pass touchdown by Burrow.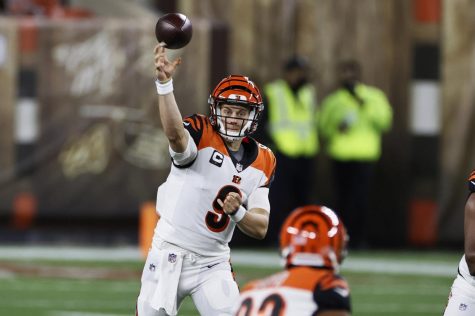 Back and forth, touchdowns were exchanged between the two teams, but ultimately the Browns pulled away on the right side of victory.
This Bengals defeat marks the first time Burrow has lost two games in a row in his football career, from high school to the NFL.
The Bengals look to get their first win of the season against the Philadelphia Eagles, while the Browns will attempt to start a winning streak against the Washington Football Team next Sunday, Sept.  27 at 1 p.m.