Burrington nets game winner in comeback win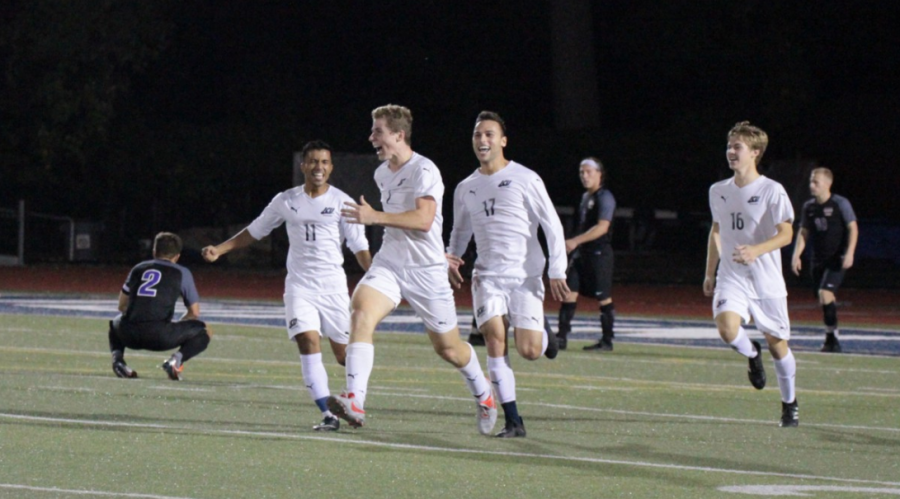 Sean Freeman, Assistant Sports Editor
October 9, 2018
To say the John Carroll men's soccer team has had some close games this season would be an understatement.
Of the 11 matches they have competed in this year, five have gone into overtime and four of those five went to double overtime. This season, only three of their games were decided by a margin of more than two goals.
Two of those nail-biters occurred this past week as the Blue Streaks battled against the University of Mount Union and Capital University. JCU defeated Mount Union at home on Oct. 3 by a score of 2–1, but fell to Capital 0–1 on Oct. 6 in Bexley, Ohio. Both contests against nationally ranked conference rivals went to double overtime.
In the first half, the Purple Raiders held the Blue Streaks to just two shots, while taking a 1–0 lead 27 minutes into the match.
Off senior Eric Rozsit's cross, sophomore Jared Ianiro headed home his first goal of the season in the 67 minute of action, breaking Mount Union's scoreless campaign. In a huge moment for the Blue and Gold, Rozsits was just happy to be a part of it all again after battling an injury that sidelined him for seven games this year.
"It feels amazing to be back on the field. It was hard to watch the team from the sidelines and now that I'm back, I'm giving all I have," said the senior defender. "Our game plan is always to bring our best effort forward … and stick to our style of play, which is possession."
JCU continued to battle with Mount to the end of regulation time and through the first overtime period.
Then, the unthinkable happened.
Not even a full minute into the second overtime, Justin Brown dropped in a lob from the left side to Jarrod McDowell, who deflected the pass to freshman Mikey Burrington in the box. Burrington sliced it home past the goalkeeper's left side and the stadium erupted. His third net-finder of the season and first collegiate game-winner, Burrington felt "nothing but goosebumps and adrenaline."
Don Shula Stadium erupted with a roar and the team ran on the field to celebrate.
"All I heard were people screaming while I was getting tackled by my teammates," Burrington recalled in an interview postgame.
"For the rest of the season, I hope our team will realize the talent we have and that anything is possible. If we keep this up, we will win trophies."