Tom Arth the leading candidate for Akron football head coach position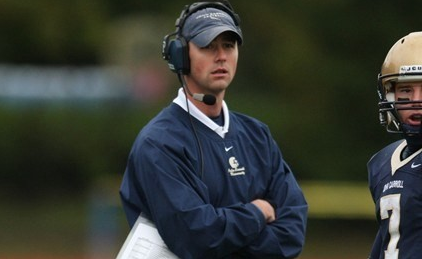 CLEVELAND, Ohio — The Akron Zips football program fired head coach Terry Bowden on Sunday, following a 28–3 loss against South Carolina the previous day. For the first time since 2012, the Akron head coach position is vacant and the Zips are looking to make an exceptional hire. They are looking towards a name quite familiar to those at John Carroll University.
According to multiple sources familiar with the Akron football hiring process, who asked to speak anonymously because a public statement could impact their jobs, former John Carroll football coach Tom Arth is the leading candidate for the head coach position for the Zips.
Arth is currently the head coach at the University of Tennessee at Chattanooga, where he has led the Mocs to a 9–13 record since his hiring in 2017.
Arth, a native of Westlake, Ohio, spent four seasons as John Carroll's head coach where, in 2016, he led the Blue Streaks to their first OAC Championship since 1989 and finished with a career record of 40–8.
Well before his successful coaching career, Arth was an outstanding football player at John Carroll from 1999–2002. He finished first all-time at JCU in pass completions and passing yards and is ranked second all-time in passing touchdowns.
Following his time at John Carroll, Arth found his way in the NFL — where he backed up Peyton Manning on the Indianapolis Colts from 2003–05. Arth and Manning remain friends to this day.
According to two sources who are close to Arth, he has expressed interest in the Akron opening but is unsure if he will accept the position if it is offered to him.
One thing that could hold Arth back from accepting the job is the hiring of Tommy Zagorski as his new offensive coordinator at Chattanooga, according to one source. The Chattanooga Times Free Press reported the hiring on Nov. 27, but it has not yet been made official by the Chattanooga football team. Zagorski was Arth's offensive coordinator at John Carroll during the 2014 season.
If Akron and Arth agree to a deal making him the head coach of the Zips, it's likely Zagorski finds his way on Arth's coaching staff there as well, a source said.
In addition to Arth, Akron also plans to interview former JCU linebacker and the current University of Notre Dame special teams coach Brian Polian '96, a source confirmed. Polian was also interviewed for the Bowling Green State University head football coach position.
Arth's coaching tree of former assistants that coached under him extends to Chicago Bears linebackers coach Brandon Staley, Minnesota Vikings defensive backs coach Jonathan Gannon, Los Angeles Rams linebackers coach Chris Shula, and Frank Ross, a pro scout for the New England Patriots.
Editor's Note: This story will be updated as new information is learned.