The Blue and Gold split season series vs. Mount Union with win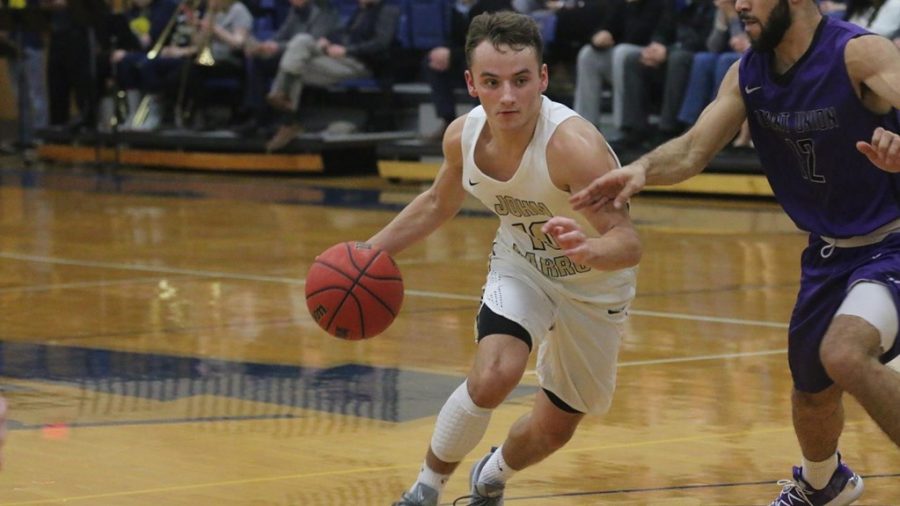 Beating a team twice in a season is difficult to do, especially when that team is your arch-rival. The John Carroll University men's basketball team proved that true following their 82–69 win against the Mount Union Purple Raiders on Wednesday, Jan. 23.
Almost surprisingly, the Blue Streaks have morphed into a team that has sprung out four key contributors. Those four are juniors Sean Flannery, Jimmy Berger, Ryan Berger and one sophomore — Luke Hippler. These four have been monumental to JCU's success in their last two wins.
"They are bringing championship level effort," head coach Pete Moran told The Carroll News following the game.
The effort was on display after they held Mount Union's Tommy Stenger to just two points. Stenger scored 30 points the last time these two teams met, back on Dec. 5.
"I personally took it upon myself. That's what we have to do these next three games — we have to shut down those good players. That was my own personal goal and I got it done," said Jimmy Berger. He guarded Stenger for a good portion of the game.
As always, the match began as fight, with both teams trading shots. Midway through the first half, JCU began to get hot on the offensive end. The Blue and Gold outscored the Purple Raiders 18–6 in a matter of seven minutes. Flannery (6), Jimmy Berger (6), Hippler (4) and Ryan Berger (2) combined for all 18 points — no coincidence.
Between the four, they featured all of the scoring for the first 19 minutes for the Blue Streaks. It was not until junior Connor Fitzgerald hit a free throw 49 seconds before the break that JCU had a fifth player in the scoring column.
The Blue and Gold were able to collect a 16-point lead at the half, their largest all season.
John Carroll kept their foot on the gas, gaining as much as an 18-point lead in early minutes of the second half. Flannery scored five points within 90 seconds during that time.
At the 13:11 mark in the second half, one of the Blue Streaks' biggest fears occurred. Flannery hit the floor in agony, clutching his left leg. Luckily, it was just a case of cramping.
Flannery did finish the game, but it was not easy. He said, "There was no way I was going to be walking out of here without a win. I wanted to be out there on the floor. I pushed through it, kept my head down, and finished this game."
Moran added, "Sean and I have such a rapport that it's an eye contact thing. He knows and I know if he's hurt, not hurt. If he's ready to go he gives me the eyes. I trust him. He's our engine that runs this ship."
The Purple Raiders continued to battle, but JCU would maintain control of a double-digit lead for the entire second half. The Blue and Gold would walk away with a much needed win.
Flannery finished with a career-high 21 points and added eight assists.
Jimmy Berger played fantastically, registering a 12-point, 10-assist performance. He also added eight rebounds, which led the team. Berger's 10 assists were a career high, and tied for sixth all-time, for most in a single game in JCU history.
Hippler added 19 points, increasing his average to 16.2 over his last four games.
"We defended. We defended at a high level — and that's where it starts. We were able to push the ball and we got good looks. Our guys did a fabulous job. Our guys really stepped up and did a good job on a very, very good basketball team," Moran said of his team's performance.
However, the Blue Streaks's next game wasn't so stellar. They went down to №10-ranked Marietta on Jan. 26 and lost 108–92. JCU now holds an 8–11 record on the season.