Average finish at Colonial Relays for JCU men's track team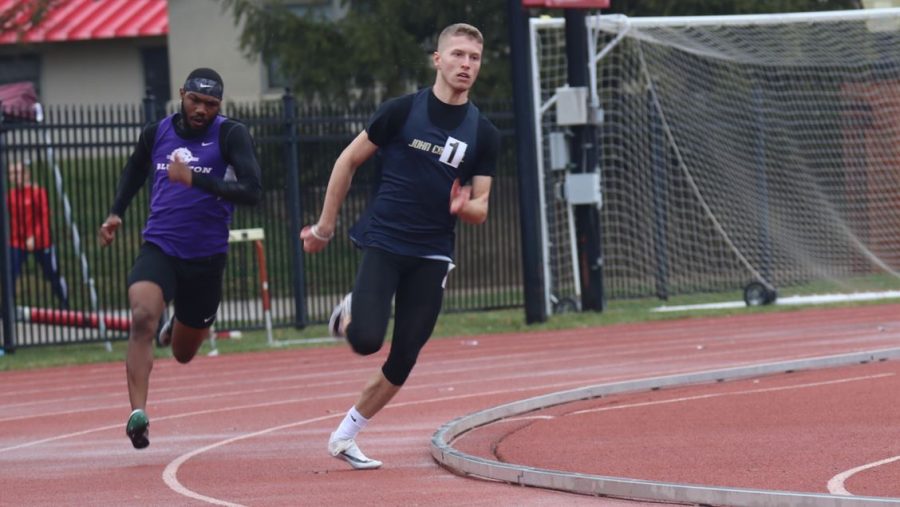 The Blue Streaks entered unfamiliar territory this past weekend, traveling down to Williamsburg, Virginia, for a three-day stay at William & Mary for the Colonial Relays. Almost more foreign to the Blue and Gold, the Division-III competitors faced competition from Divisions I and II.
Among brightest stars of the weekend was senior Kyle Monahan, who broke a school record in the 5,000-meter run with a time of 14:30.91. That placed him seventh, earning the Blue Streaks three of their 21 team points on the weekend.
Fellow senior Nick Colby continues to impress, placing second overall in the hammer throw with a mark of 56.61 meters. Additionally, he notched a 51.02-meter throw in the discus, finishing in third place. Colby amassed the Blue and Gold's other 18 points scored.
The JCU sophomore class was well on display at the Colonial Relays. Jacob Fritsch headlines the second-year group, as he won the javelin event in the University division with a 51.77-meter mark. Jamie Dailey finished in sixth place in the 5,000-meter run, clocking in at 15:17.15 — a personal best.
Senior J.J. Bost was the only other JCU competitor to earn a spot in the top 10, as he finished fourth in the shot put and second in the javelin.
The Blue Streaks will head back into their bread and butter as they travel down to Ohio Wesleyan University in Delaware, Ohio, for the All-Ohio Championships which will take place on Saturday, April 13, at a time yet to be determined.
John Carroll will only have two additional events (Otterbein Twilight and Sparky Adams Invite) before the OAC Championships, which will take place at Otterbein University later this month.