Blue Streaks tip off season 2-0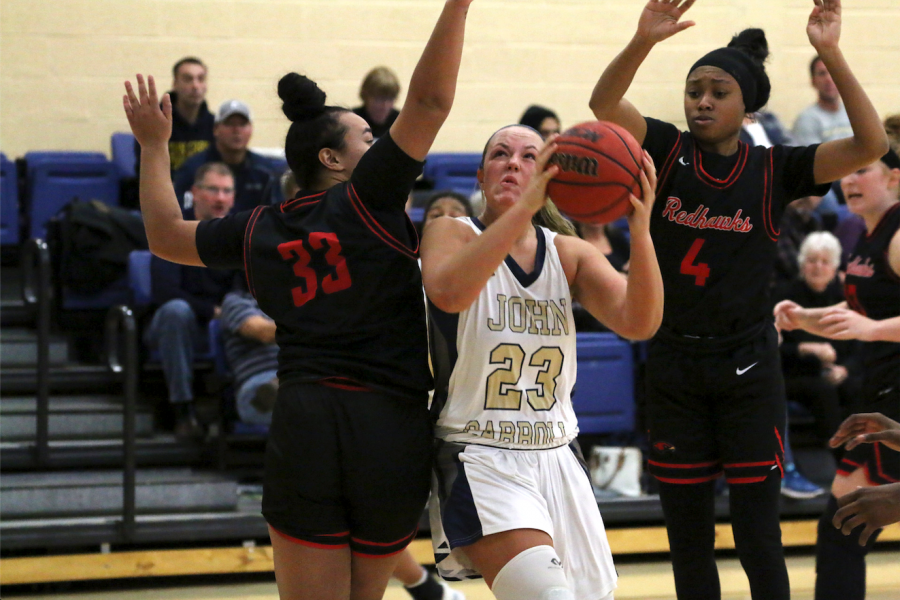 Last season, the John Carroll University women's basketball team put an 8-18 season behind them and avenged it with their first ever Ohio Athletic Conference championship.
Coming into this season, the Blue Streaks lost four key seniors: OAC Tournament MVP Kahrin Spear, record book staple Shmoo Pryor, strong defensive player Chelbi Graham, and a key bench asset in Bri Pittenger.
Although JCU lost plenty of talent in last year's senior class, they still return with key pieces from last year. Among them are junior Abby Adler and senior Sarah Sprecher, two starters from last season. Also on the team is 2018-19 OAC Defensive Player of the Year Olivia Nagy, OAC Player of the Year Nicole Heffington and All-OAC Honorable Mention Dani Carlson.
Carlson, Adler, Sprecher, Heffington and Nagy now make up the starting unit for the Blue Streaks and just two games into the season, it is the rest of the team that is filling last year's void.
"I think this year we have a lot of depth that has stepped up to help fill those [missing] roles," Heffington told The Carroll News. "Having a lot of girls with a year under their belt and just a few new girls has made it easier for us to jump right into things."
The Blue Streaks tipped off their season with a 72-39 win over SUNY Fredonia. Nagy (18 points and 14 rebounds) and Heffington (14 points and 10 rebounds) each recorded double-doubles.
On Saturday, Nov. 16, the Blue and Gold defeated La Roche 84-49. Nagy and Heffington both scored 17 points. 
"It was awesome to start the year off strong," said Heffington. "I love playing with Liv [Nagy]. I think we work well together inside. Hopefully that continues all year but we have a lot of different scorers aside from Liv and I."
While they're a dynamic duo, Heffington and Nagy weren't the only two Blue Streaks to find early season success. Sprecher and Adler both had five assists against La Roche and Carlson collected four assists against SUNY Fredonia.
After a hot start, the Blue Streaks believe they are in great position to repeat the championship win.
"We want to reach the Sweet Sixteen and beyond," Heffington said. "We want to win the OAC tournament again."