Joe Schaefer accepts job with Youngstown State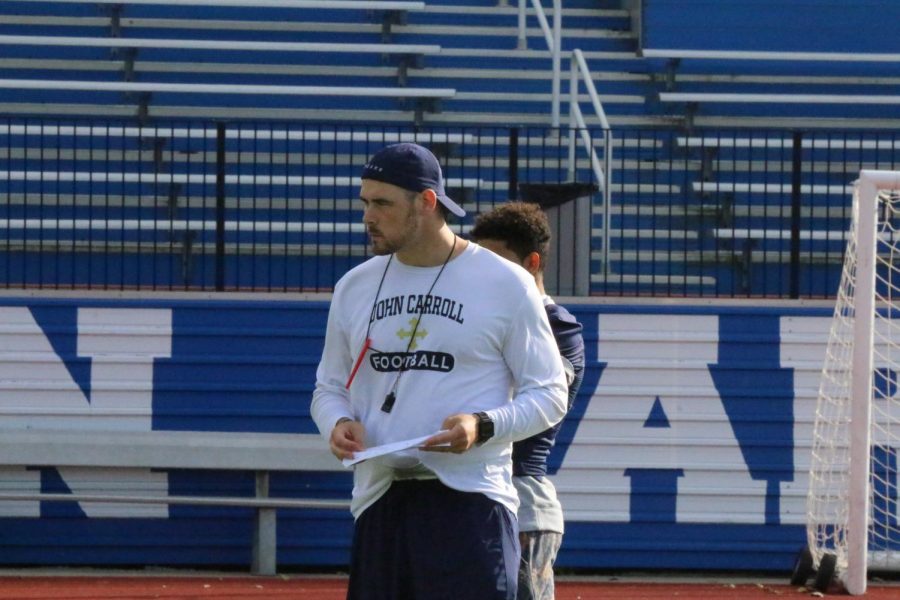 UNIVERSITY HEIGHTS, Ohio — The John Carroll football team's highly touted defensive coordinator is moving up the coaching ranks. Joe Schaefer has accepted the defensive coordinator position at Youngstown State, two sources that opted to speak on anonymity confirmed to The Carroll News.
The move was first reported by Football Scoop.
Schaefer will join recently hired head coach Doug Phillips' staff. Phillips was hired by the Youngstown State Penguins on Friday and he nabbed Schaefer to lead his defense. They have a history working together and Phillips even coached Schaefer in college.
In 2016, Schaefer and Phillips worked together at Iowa State under head coach Matt Campbell, a Mount Union graduate. Additionally, Phillips coached Schaefer, a defensive end, at Bowling Green State University during the 2007 and 2008 seasons. Phillips was the defensive ends coach for the Falcons.
Schaefer spent the last two seasons leading the Blue Streaks defense. In 2017, during his first season as the defensive coordinator, JCU had the top-rated run defense in the Ohio Athletic Conference. The defensive line compiled 5.19 sacks per game, which led all of college football.
Tyler Frederick, a member of the defensive line, recognized the impact Schaefer had on the team.
"He was an absolute beast. In the two years I played for him it was awesome. He really took the culture that our defense has had for years and took it to a new level," he said. "It's up to the players still a part of that defense to continue that culture regardless of who the new defensive coordinator is."
In 2018, Schaefer's defense finished as the No. 7 scoring defense in the country, holding opponents to just 11.5 points per game. The Blue Streaks also finished ninth in total defense; In the passing game, JCU finished 13th in team passing efficiency and 11th in passing yards allowed.
In addition to being the defensive play-caller, Schaefer coached the defensive backs. Sophomore Nate Leopold, an All-OAC honoree in his second season, was one of those defensive backs. 
"Coach Schaefer means a lot to me. He taught me a lot about how to be a great player, coach, and person. As someone who wants to get into coaching, seeing how he balanced football with his family was incredible. He's the best coach I've ever had," Leopold said.
"He created a culture on our defense that will live on even though he's elsewhere. I could not be more happy for him to get this job," he continued. "He more than deserves this job and he gets to coach at a great program while not having to move out of Northeast Ohio. I look forward to following how he does there. I know he will be great. 
"He's a great coach and person and any program is lucky to have him. I'm very grateful for all he has taught me in the past two years. We have formed a bond and relationship that we both plan on maintaining."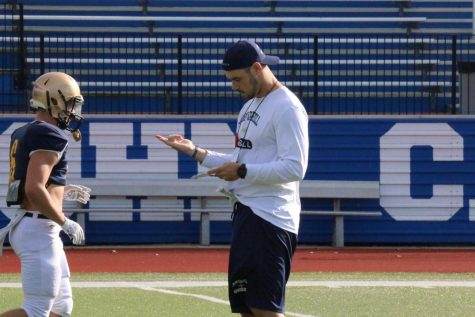 Former cornerback Cole Griffin echoed Leopold's thoughts on social media. 
"Great addition to YSU's coaching staff. Coach Schaefer is elite and has no room for excuses — a true realist. You'll be missed Coach," senior defensive back Cole Griffin said in a tweet.
Joey Bates, another defensive back, learned more than just how to be a football player under Schaefer. Bates couldn't say enough great things about his former coach.
"He taught us to be confident and pushed us to reach our fullest potential on the field and in life," he said. "Coach Schaef really has meant a lot to me these past couple of years. He's taught me more than I could've imagined about not just the game of football, but life in general. He really coaches his players the right way, and as someone who wants to get into coaching, there are so many lessons he's taught that I plan to implement down the road.
"He is one of the best coaches I've ever had, and Youngstown State is getting one of the best ones out there. I couldn't be happier for Coach Schaefer, and speaking for the other defensive backs, we've always known that we were extremely fortunate to have a coach as good as him, and we plan to keep the culture going that he established."
In his two seasons at John Carroll, his players received a total of 17 All-OAC accolades. Two players received national recognition as well. Conner Bogard was a two-time All-American and Jimmy Thomas was also recognized — Thomas was the OAC Defensive Lineman of the Year in 2018.
The Blue Streaks are now without their offensive and defensive coordinators for the upcoming 2020 season. Schaefer was also a finalist for the University of Wisconsin-La Crosse head coaching vacancy, but the Eagles elected to stay with interim head coach Matt Janus.
Head coach Rick Finotti will quickly begin the search for new leaders on the offensive and defensive sides of the ball.