Tanner Barton brings energy, fun to JCU Swimming & Diving Program
Tanner Barton is just 25 years old. To him, age is just a number. He speaks as he has coached for 25 seasons.
Barton was hired as the head men and women's swimming and diving coach of John Carroll University on Aug. 26, three months following the retirement of former head coach Mark Fino. 
A native of Dublin, Ohio, Barton isn't a foreigner in Cleveland. In 2018-19, Barton was an assistant coach on the Cleveland State swimming and diving staff. It didn't take long for a college program to give Barton a shot to be at the helm. Anderson University hired him two months before his 24th birthday. 
Barton coached the Anderson men's team to a 5-6 record in his one year with the program. The team had achieved one win in the previous three years combined before he emerged on the scene. The women went 7-3, their first winning season in school history. Both programs had only been established three years prior to his hiring, but nonetheless, the results Barton churned out were impressive.
When Barton saw the JCU swimming and diving job opening, he jumped at the opportunity to apply. A close friend and mentor of Barton is Katie Mathews, a JCU graduate from the class of 2011. She was a four-year letter winner for the program. Mathews encouraged Barton to apply for the job.
"I consider myself fortunate because I knew a different amount about the program here at John Carroll," Barton told The Carroll News. "Katie and I worked closely together and she's been a mentor. We've kept in contact. I heard this position was going to be opening, and she thought that I would be an ideal candidate."
Aside from the success of the program, Barton said John Carroll's vision as a university appealed to him. It is why it makes him such a perfect fit.
"I knew about the Jesuit tradition because I grew up Catholic. I have been involved in some of the young adult ministry groups here when at Cleveland State," he said. "I didn't apply [just] because I knew that it was a strong swimming program. I applied for that reason and others. … It was more what John Carroll stands for — how John Carroll has continued to help people in the water and out of the water. Those were the reasons that contributed to my applying."
Barton takes over the program in perhaps the most challenging year in school athletic history. John Carroll's athletes are absent and won't be present again until Jan. 1, at the earliest. 
Today was the beginning of a new adventure… I'm very honored and excited to call myself a @JohnCarrollU Blue Streak! 🏊🏻‍♀️⚡️🏊🏻‍♂️ #OnwardOn @jcusports @jcuswimdive pic.twitter.com/ll9fIyx6c8

— Tanner Barton (@Tan_Man_Barton) September 22, 2020
Last Monday was his first day on campus. His first team meeting was on Thursday, occurring virtually of course. 
This year's team has 53 student-athletes, including the incoming freshmen. Barton said he played an icebreaker on Zoom so they could learn more about him. Then he reviewed expectations and his coaching philosophies. Over the next two weeks, Barton said he plans to meet with each athlete individually for approximately 30 minutes.
One of Barton's strongest qualities is building relationships, which can be difficult in today's environment. 
"It's challenging during this time. That's for sure. The thing is, I am a relational coach. A relational leader, a relational coach. I believe that [the meetings] are the best use of my time right now. If we can start to build those relationships, if we can start to build trust between the coaching staff and student-athletes, once we get on campus and we're able to train and prepare for the season, we are going to be going after it."
Being a student-athlete in 2020 is not the same as it was even one year ago. Home workouts are the norm. Getting in touch with coaches comes via text or email, and keeping up with teammates mostly happens through social media. 
Barton isn't far removed from the swimming pool. Just three years ago, he was competing at Ball State University. He graduated from the Honors College summa cum laude with a double major. Although this particular year doesn't stack up identically to when he was in school, being a former student-athlete plays into his favor.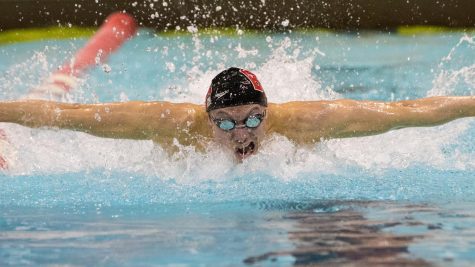 "I understand how these athletes are going to be feeling throughout the course of the season. In December, in a typical year, when we are really going after the yardage and swimming at high intensities, we're also preparing for finals and getting ready for the end of the semester," he said. "I understand the exhaustion, the pain, the toll that time period can take on our bodies. I feel like I have a unique ability to relate to the student-athletes and connect with them."
Another one of Barton's qualities as a coach is energy. If you have ever been to a swim and dive competition, the team cheering, shouting and clapping mirrors what you'd see from tens of thousands of fans during a football game. Barton fits right in with that atmosphere. 
"I think that my energy is something that I bring to the pool deck," he said. "You'll see that at meets, at practices. I am a very optimistic individual and full of energy.
"I believe in top-down leadership. How I am conducting myself at meets and how my staff is conducting themselves, that will trickle down to how the student-athletes are conducting themselves. When I am up, rooting for our swimmers, when I am tracking splits and making sure we are doing what we need to do, the rest of the program will follow suit."
He also believes fun is just as important.
"Another one of my mottos is 'fun swimming is fast swimming.' When our students are having fun and dancing to music behind the block and laughing and joking, that's what I want to see," Barton said. "When people are taking pressure off themselves and enjoying the meet, then, they're going to be swimming faster. If I can continue to also enjoy the process and enjoy the meet — even in high-pressure situations — the athletes will do the same."
— John Carroll Sports (@jcusports) August 26, 2020
For an extrovert like Barton, the next three months will be perhaps the most difficult for him. No athlete will be in sight until January. Instead of being poolside during practice, he will be logging on Zoom for occasional checkups. 
"The waiting period is difficult. As a coach, I like to be on the pool deck. I like to be working with the student-athletes. The best part of the job is interacting with the current student-athletes. Right now, I am not able to do that here on campus," he said.
"What it will look like, for my staff and I, is we will continue to have individualized Zoom meetings with student-athletes to check-in with them to see how they're doing. Obviously, I will answer their training questions and swimming-specific questions, but I will check in with them to build those relationships."
While we all wait for the COVID-19 pandemic to cast away, Barton has one message for his team: Win the day.
"That's my other big mantra," he said. "What can they do academically, athletically, with their family and friends? What can they do to win each day?
"I've asked them to figure out what they can do rather than waiting and waiting. Let's be proactive and see what we can do to win. Let's make sure we are doing something to win each day."