John Carroll Volleyball rebounding in 2018 after a rebuilding year in 2017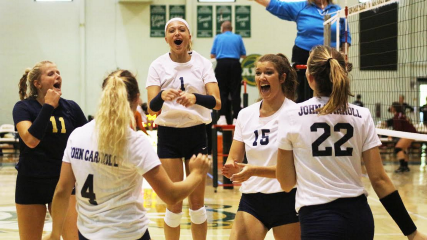 "Rebuilding" is a term no sports team wants to hear, but sometimes the idea of a rebuild just has to be accepted. Last season, the John Carroll women's Volleyball team essentially underwent a "rebuild" with a historic season on the other side of winning.
Two years ago, the 2016 season concluded with a 16–12 record and an Ohio Athletic Conference postseason berth. That team featured six seniors, all of whom led the team to a 6–3 conference record, an improvement from 2015.
Four seniors headlined a 2017 Blue Streaks volleyball team that finished their season with a losing record for the first time since 2015. To chalk 2017 up as a rebuilding year for the program would not be the worst of classifications for the program. The Blue and Gold surrendered 26 losses last season, the most in a single season in school history and only the second time the program has endured a 20-loss season.
To begin the 2018 season, the Blue Streaks are off to a lightning-fast start. The women opened up their journey at the St. Vincent Tournament on Aug. 31. Four games in two days may seem like a lot to start the season, but it was not too much for John Carroll. Perhaps, four games was not enough.
The Blue Streaks won three of four games in the tournament, with their only loss coming in a five-set battle with Westminster College. John Carroll and Westminster traded scores in each individual set, but the Titans stole the final set with a 15–13 finish, winning the match 3–2.
The University of Pittsburgh at Greensburg, Waynesburg University and Oberlin College did not have the same luck as Westminster against the Blue Streaks. John Carroll swept all three matches with 3–0 scores, earning a 3–1 start to their 2018 campaign.
It would not be far-fetched to say the Blue Streaks are still rebuilding their program. This year's team has just three seniors. Fifteen total freshmen and sophomores make up this year's squad, but age is just a number.
John Carroll is off to a 5–3 start this season, an improvement from 2017. The Blue and Gold hit a cold streak, however, on the Sept. 7–8 weekend, with shutout losses against Case Western and Hiram.
With a team so young, the expectation to win every game may be a bit extreme, but that will not stop the Blue Streaks from winning.