This article is part of a head-to-head series. Read the counterargument by Brian Keim.
I'm passionate about a lot of things in this world: my loved ones, my core beliefs, academics and the arts, to name a few. But, all of that was cast aside this summer of 2023 when history was made with "Barbenheimer." 
I've seen "Barbie" and "Oppenheimer" four and three times, respectively (including the actual "Barbenheimer" watch on July 21), and have a deep love for both in my heart. But today, I'm going to fight in Greta Gerwig's corner and share why I believe "Barbie" is better than "Oppenheimer."
For the two people who have not seen "Barbie," it follows the journey of "Stereotypical Barbie" (Margot Robbie) as her life in Barbie Land starts to fall apart – her mind is plagued with thoughts of death and her legs start to form cellulite (which is equally disastrous for her). She is sent to find the girl who is playing with her in the real world and is confronted with the realities of womanhood outside of her perfect feminist reality. She brings Ken (Ryan Gosling) with her on the journey, where he discovers the power of the patriarchy in the real world. We discover with the characters that the best system isn't matriarchal or patriarchal but rather one of equality. 
A lot of audiences went into the movie expecting something in the same vein as "Barbie as the Princess and the Pauper" or "The 12 Dancing Princesses," but in the true fashion of the aforementioned Gerwig/Noah Baumbach writing partnership, the masses were left inspired with faces covered in tears. The emotions ran deep in both "Barbie" and "Oppenheimer," but I left each theater experience with different feelings: "Oppenheimer" was more frustrating and pensive, but "Barbie" left me with hope and more love for my mom. You didn't have to go in with any outside information on "Barbie" either – "Oppenheimer" might be hard to follow if you don't have familiarity with the Manhattan Project.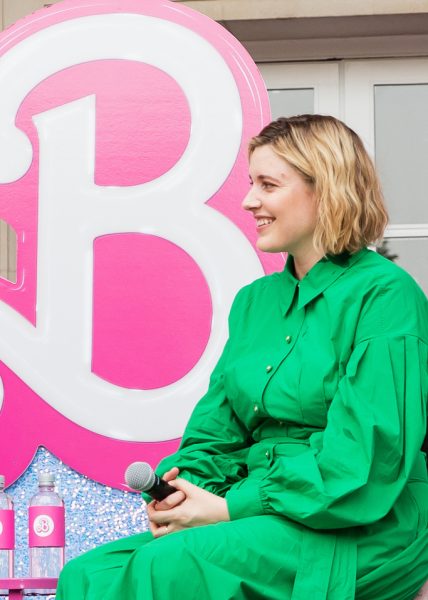 The casts of both movies are extraordinary, but "Barbie" uses its ensemble in a focused way that is more accessible to broader audiences. All performances are passionate and the actors committed themselves even to the silliest scenes or dance sequences. The stand-out stars for the film were of course Barbie and Ken (Robbie and Gosling), as well as some others in the ensemble – Rhea Perlman as Ruth Handler, Will Ferrell as the Mattel CEO and America Ferrera as Gloria all blew me away.
Another selling point the movie has is its visuals as the production design is immaculate in its attention to detail. Architectural Digest visited the set in a YouTube video, which points out some of its most creative and childlike features. An example is the functionality of the objects in Barbie Land; Gerwig made it a point for everything to still looked played with, so Barbie doesn't have water in her showers, she isn't drinking real orange juice from the fake fridge and the slide attached to her Dream House drops onto a painted pool, not a real one. The sequences in Barbie Land are meant to feel like how all children played with their dolls, and they emulated that perfectly. 
It would be remiss of me to not mention a few details that make "Barbie" so extraordinary. The soundtrack, produced by Mark Ronson, was packed with catchy songs like "Dance the Night" by Dua Lipa and Gosling's cover of "Push" by Matchbox Twenty (made even better with his Rob Thomas-esque vocal inflections). The fight and dance sequences are choreographed beautifully, with "I'm Just Ken" being one of the movie's most talked about scenes.
There's so much to love about "Barbie"'s empowerment for young girls and women from every walk of life, along with its well-balanced fun and amazing visuals. It's hard to pretend that I wouldn't recommend "Oppenheimer" as well, but I do believe that "Barbie" is an overall more accessible and easier to love movie for just about any kind of audience. So, before "Barbie" is released on digital platforms, I urge you to get to your local theater and catch it on the big screen.