John Carroll offensive coordinator Jeff Fink resigns on Tuesday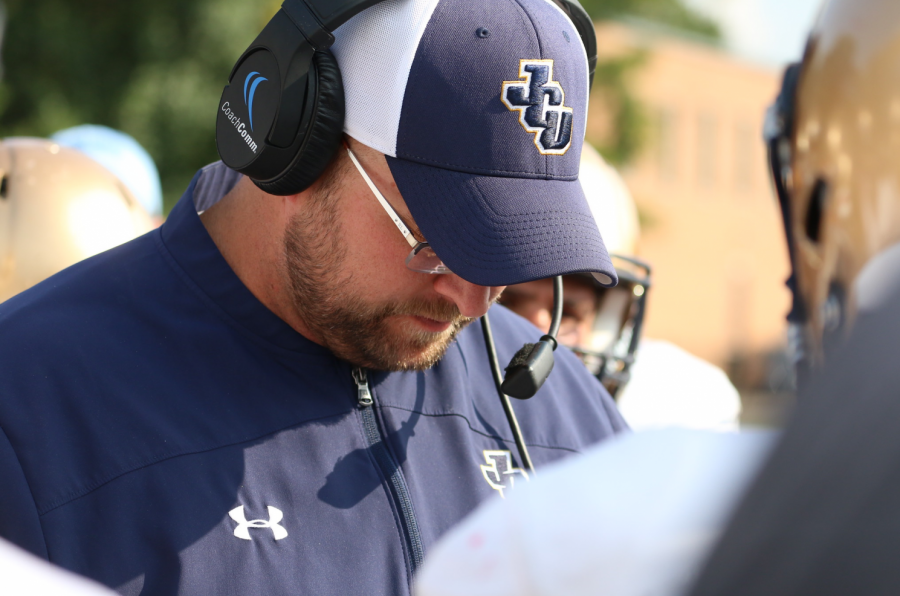 UNIVERSITY HEIGHTS, Ohio — The John Carroll University football team will be looking for a new leader on the offensive side of the ball. 
JCU offensive coordinator Jeff Fink has resigned, he confirmed to The Carroll News yesterday evening. Fink held the play-calling position and coached the quarterbacks for the last two seasons.
Fink cited personal reasons behind his decision to step down. The move came as a surprise, as the team has recently begun off-season workouts and preparation for spring practices.
"I thoroughly enjoyed my years at John Carroll. I have stepped down for personal reasons," Fink said in a text message. 
Last season, Fink anchored a Blue Streaks offense that finished second in the conference in rushing (172.1 yards per game) and scored 31.3 points per game. Under his direction, junior quarterback Jake Floriea averaged 16.5 passing yards per completion which ranked seventh in all of Division-III.
The Fink-Floriea connection goes back to Mentor High School, where Fink served as the offensive coordinator during the 2012-2014 seasons; He coached Floriea in 2013 and 2014. Fink also coached Chicago Bears starting quarterback Mitch Trubisky, who was named Ohio's Mr. Football in 2012. 
Fink's departure comes at a time when the Blue Streaks could now be facing the possibility of replacing both their offensive coordinator and defensive coordinator. Joe Schaefer, who coaches the defense, interviewed and was named one of two finalists for the University of Wisconsin La Crosse head coaching position — as reported by WXOW in La Crosse. 
Before coming to John Carroll, Fink was the head coach at Brush High School from 2015-2017. He turned around a Brush football team that finished 1-9 in his first season, ending with one that reached the OHSAA Division II State Playoffs in 2017, finishing with a 9-3 record.
It is unknown if the Blue Streaks will open up the search for a new offensive coordinator or promote a position coach from within.