April Fools Invite no joke for JCU's Women's Track and Field team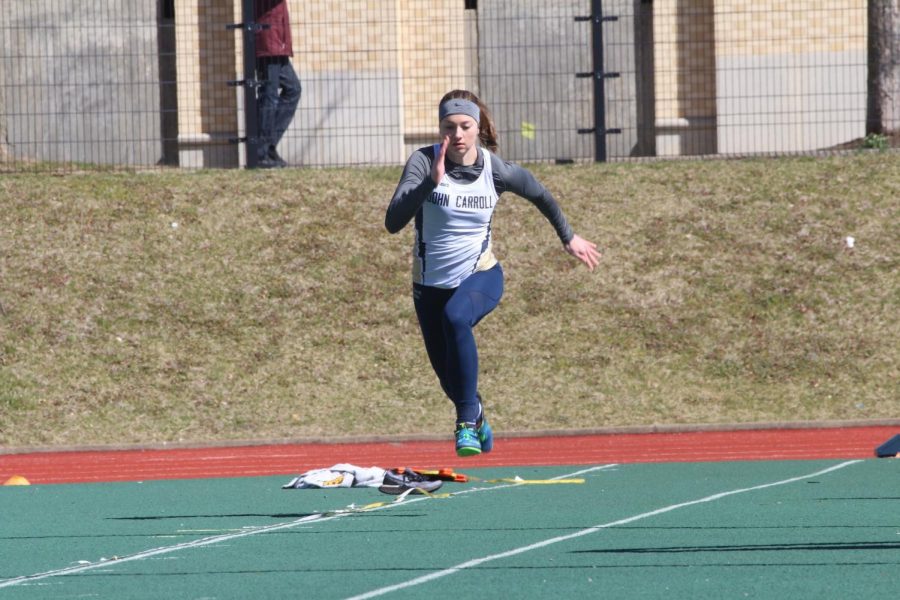 Darrell Lane, Staff Reporter
April 3, 2019
The John Carroll University women's track and field team had a strong showing at the April Fools Invitational in Westerville, Ohio, hosted by Otterbein University, finishing second place out of 13 teams.
A key reason for the Blue and Gold's runner up finish was the spectacular showing from sprinters freshman Sara Johnson, senior Ashura Powell, sophomore  Izzie Penna and freshman Lucia Cannata winning the 4×100-meter relay. The foursome of Johnson, Powell, Penna and Cannatata would also break a school record in the event timing at 48.3 seconds.
Powell continued to make her mark in other events placing second in both the women's 100- and 200-meter dash respectively.
The Blue Streaks had other notable performances on the day. In the 1500-meter run, junior Jamie Amoroso took sixth, sophomore sprinter Amy Morris placed fifth in the 800-meter dash, sophomore Karrah Spencer placed fourth in the hurdles while junior hurdler Antonia Piazza placed third in the 400-meter hurdles race.
"We all competed pretty well especially considering the weather," Morris told The Carroll News.
JCU was able to make their presence felt in the field events as well. The Blue and Gold put three on the podium in the javelin throws. The three javelin throw placers were freshmen Madeline Scherle , sophomore Cassidy Capizzi and sophomore thrower Juliann Walker.
The Blue and Gold would also have success in the shot put getting three on the podium, as well. The freshman threesome of throwers Hannah Sedlak , Olivia Hurtt and Emoni Davis all took top 10.
At the end of the day, the John Carroll University women accumulated 109 total team points placing second.
Coming up next the Blue and Gold will head to Williamsburg Virginia for the Colonial relays.