Staley next in line for Carroll's pipeline to the NFL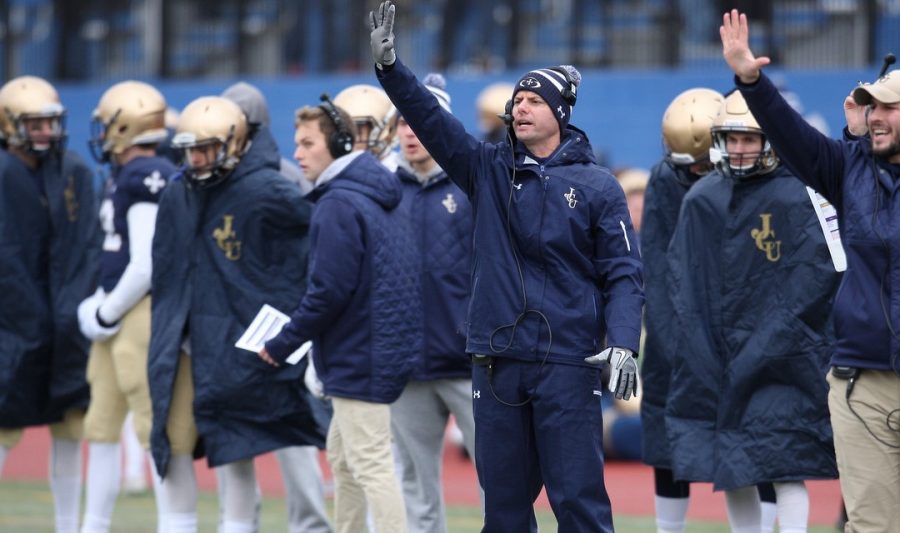 It is no secret that John Carroll University has become a pipeline to the NFL. 
Coaches, general managers and many other positions across the league are filled with former Blue Streaks. This coming Sunday, Sept. 13, one previous JCU football coach will make his debut as a defensive coordinator for the Los Angeles Rams.
Brandon Staley was at the helm of the John Carroll defense for three seasons. Staley first came to University Heights as a coach in 2013 and was rehired as the defensive play-caller for the 2015 and 2016 seasons. Staley led the 2016 Blue Streaks to the NCAA Final Four in a season when JCU finished third in the nation in total defense.
Now, Staley will be coaching the Rams on Sunday Night Football.
On Jan. 16, Staley, 37, was hired by the Rams in a move that caught the NFL by storm. Rams head coach Sean McVay, who was hired as the youngest head coach in NFL history, added Staley on his staff, making him the youngest defensive coordinator in the league.
Staley is taking over a Rams defense that was previously led by the oldest defensive coordinator in the NFL (Wade Phillips, 72 at the time). McVay and Phillips led the Rams to a Super Bowl appearance just two seasons ago. 
Although Staley is the youngest defensive coordinator in the NFL, one former Blue Streak is not surprised to see Staley receive such an opportunity just three years following his time at Carroll.
"No. Not at all, [I'm not surprised]," former All-OAC honorable mention defensive back Ariel Jimenez told The Carroll News.
"[I] knew he was going to the league after our playoff run. We made it to the Final Four, and he won Assistant Coach of the Year. When he got that, the whole team knew what was up," he said. "The guy's a pro. I remember feeling nostalgic every time he would walk into the room. That being said, I was a freshman, yes. But, backing up guys like Reese Armstrong and seeing him and the way the other seniors played under him … I mean, they were all practicing like pros," he continued. "It was just something inspiring to watch and made me realize what a professional environment really felt like."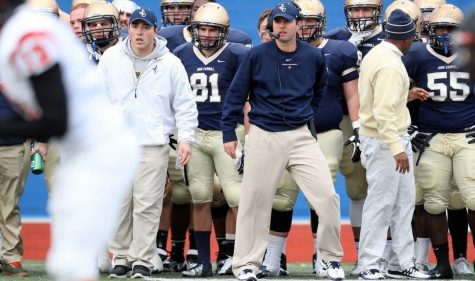 Staley made the jump to the NFL in 2017 when he was hired to coach the Chicago Bears outside linebackers. He served the same role in 2018 until Bears defensive coordinator Vic Fangio brought Staley to Denver with him when he was hired as head coach in 2019. Staley coached linebackers for the Broncos in 2019 before being named defensive coordinator again in January. 
For the Blue Streaks, Staley not only led the defense but also served as the secondary coach. Former JCU linebacker Chad Stalnaker, who started out as a defensive back as a freshman, knew from the get-go right where Staley belonged.
"I knew from the day I stepped onto John Carroll's campus that Coach Staley wouldn't be here for long," Stalnaker said. "Watching him make the transition from coaching outside linebackers to defensive coordinator in such a short period of time is no surprise to me. He is right where he belongs. 
"I was able to learn a whole lot my freshman year under Coach Staley and am extremely lucky to have had that opportunity. Not only was he a great coach, but a great person as well. He truly knew how to get the best out of everyone in the room."
Jimenez, who was also in that room as a freshman, remembers his preparation for John Carroll's opponent Mount Union, whom the Blue Streaks upset four years ago.
"We watched more film in 2016 than every college in the world. I can guarantee you that," Jimenez said. "One of the reasons we beat Mount Union that year was because we knew what they were doing. Preparation was key and Staley always was prepared."
That same preparation will be key this coming Sunday. The Rams take on the Dallas Cowboys, one of the most exciting offenses in the NFL. The game will be televised on prime-time on NBC. 
"I am so excited for him," Jimenez said. "His patience and hard work are unique and hard to find. The Rams and McVay found someone who TRULY loves this great game of football."